Powell understands how the stakes can rise with each mile a pregnant woman must travel for medical care. She still remembers the patient from about 16 years ago who came through the hospital's double doors with blood dripping down the side of her wheelchair. The woman had suffered a placental abruption and had to be rushed into an emergency cesarean section. Powell thought the baby wouldn't make it, but both mother and newborn survived.
"That situation — while it is infrequent — it's not rare," Powell said. "Driving a distance of 40 miles, 90 miles to try to get that care puts both the mother and baby's life at risk."
Powell grew up in Gilbertown, Alabama, in a county that is considered a maternity care desert. Her dad was an entrepreneur, and her mother ran an auto shop where Powell sold car parts, but from a young age, she knew she wanted to be a doctor. 
After medical school, in 1997, she moved with her husband and young son to Monroeville. She began practicing as a family medicine physician at Monroe County Hospital, and she also opened a private clinic. She and her husband soon had a daughter, as well. 
Some of her patients were in cribs, while others were eligible for Social Security. Her obstetrics training meant that in addition to offering primary care, she could see patients throughout their pregnancies and deliver their babies.
Monroeville, a city of about 6,000, is known in literary lore for one of its most famous natives, Harper Lee, the author of "To Kill a Mockingbird."
Vestiges of the unequal Alabama society that Lee wrote about in 1960 still echo in national racial and socioeconomic disparities. Black children are 2.4 times more likely to die in infancy than white newborns.  In adulthood, Black Americans have one of the country's lowest life expectancies. 
This fall, the recent wave of maternity unit closings across the U.S. arrived at Monroe County Hospital.
Powell was in the operating room one evening in late September when she saw a missed call from the hospital's CEO. The head of surgery and an anesthetist had missed calls, too. Powell knew something was wrong.
As she walked to her car, she returned the call. She listened as Kirby told her the board had decided to end labor and delivery services.
Memories of the emergencies her team had worked on flashed through Powell's mind.
She couldn't speak. When she finally did, she asked for the unit's last day.
She turned around and walked back to her office and began pulling up her patients' charts so she could call them. She would start with the ones with due dates after Nov. 15. There were 83.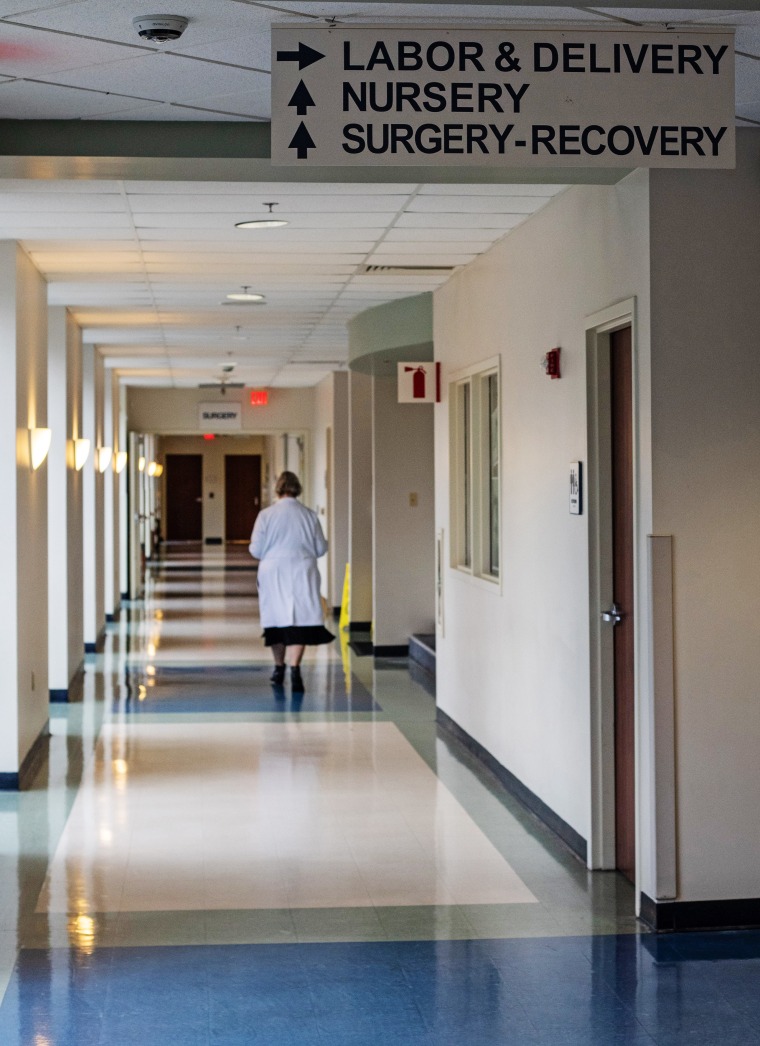 Over the past few weeks, Powell held out hope that the hospital would reconsider, or maybe someone outside of it — like the state — might come in with a last-minute rescue.
She also started having serious conversations with her patients. If they go into early labor and can still feel the baby moving, she told them, they should probably set out for the nearest delivery hospital in another county. But if they are hemorrhaging, they need to get to a local emergency room quickly — Monroe County Hospital will still deliver babies in urgent circumstances.  
There wasn't a day when she didn't have an "ugly cry," she said.
In the hospital's waning days, before the start of each C-section, a nurse reminded her colleagues that it could be their last one together.
"Stop," Powell told her. "You're going to make my glasses fog up."
The labor and delivery team was close-knit, and it had developed rituals. After a birth, they played Brahms' "Lullaby" over the hospital's loudspeaker.
On Monday, Powell discharged the unit's last newborn. Like she'd done before, she went over the ins and outs of having an infant at home — like the sounds that parents should be concerned about.
Like she'd done before, she reassured the mom, "The road that takes you home brings you back."
But it won't bring many more expectant mothers. And Powell is wondering about whether to seek work elsewhere so she can keep delivering babies.