PUBLISHED
September 03, 2023


KARACHI:

In the heart of Pakistan, a sport born from the marriage of speed and skill is carving its own path to glory. Karting, once an underrepresented passion, has been surging through the veins of the nation, igniting the dreams of young racers and reshaping the landscape of motorsport. As the engines roar and rubber meets the asphalt, a remarkable tale unfolds—one of determination, community, and the unrelenting pursuit of excellence.
Amidst the backdrop of a nation known for its cricket fervour, the rise of karting represents a vibrant shift in sports culture. This story takes us on an exhilarating journey, from the humble beginnings of local tracks to the high-octane excitement of competitive championships. It's a journey that speaks of challenges conquered, triumphs celebrated, and the unwavering commitment of those who dare to chase their dreams around every hairpin turn.
This is not just a narrative of speed and adrenaline, but a story that resonates with the heartbeat of a generation. It's about the parents who believe in their children's aspirations, the coaches who shape raw talent into polished racers, and the pioneers who dared to build circuits where dreams could take flight.
Historical evolution
The history of motorsports in Pakistan, although not as extensive as some other countries, carries a unique charm and determination. Motorsports made its debut in Pakistan in the mid-20th century and gradually gained momentum.
One of the earliest motorsports events in Pakistan was the Cholistan Desert Rally, which began in the 1970s. This challenging rally, set against the backdrop of the majestic Cholistan Desert, attracted local and international participants, gradually growing into a significant fixture on the Pakistani motorsport calendar.
As time passed, more forms of motorsport began to find their place in Pakistan. Karting, with its accessibility and thrill, started gaining popularity among young enthusiasts. Karting is a relatively new sport in Pakistan, with the first karting track being built in Karachi in the early 1990s. Since then, the sport has grown in popularity, and there are now a number of karting tracks in major cities across the country.
One of the pioneers of karting in Pakistan is Nadir Magsi, who is known as the "Michael Schumacher of Pakistan". Magsi is a former karting champion and rally driver, and he has played a major role in promoting the sport in the country.
Another important figure in the history of karting in Pakistan is Enaam Ahmed. Ahmed is a British-Pakistani racing driver who won the Karting World Championship in 2014, becoming the first Pakistani to do so. Ahmed's success has inspired a new generation of Pakistani karters, and he is seen as a role model for young people who aspire to compete in motorsports.
Karting is not just an exhilarating sport on its own; it serves as an excellent stepping stone for aspiring motorsport enthusiasts, regardless of their chosen racing discipline. For those who kickstart their racing journey in karting, the path to progress becomes notably smoother. In fact, karting serves as the ultimate launching pad for potential Formula One stars to hone their skills.
Several iconic and highly successful Formula One drivers, including the likes of seven-time world champion Michael Schumacher, three-time world champion Lewis Hamilton, and others, commenced their careers in karting. The list includes talents like Sebastian Vettel, who began winning races at the tender age of 11, Australian Formula One driver Mark Webber, who started karting at just four years old, and Kimi Raikkonen, who dedicated a decade to karting before transitioning to Formula One racing. Even Russian sensation Daniil Kvyat, the youngest points scorer in Formula One history, honed his skills in kart racing before being signed by the Italian-based Toro Rosso F1 team at the age of 10.
Karting's genesis in Pakistan
In recent years, karting has become increasingly popular in Pakistan, and the sport is now seen as a viable pathway to international success. In 2020, Pakistan hosted the first Red Bull Kart Fight, a global karting competition that is open to drivers of all ages and skill levels. The event was a major success, and it helped to raise the profile of karting in the country.
The emergence of karting in Pakistan is a story of grassroots passion and the relentless pursuit of a motorsport dream. Karting, often considered the gateway to professional racing, found its beginnings in the country through the dedication of a few visionaries.
In the early 2000s, a handful of motorsport enthusiasts recognized the potential for karting to flourish in Pakistan. They took it upon themselves to import karts, set up tracks, and organize local events. These pioneers often used makeshift tracks in open fields, highlighting their determination to introduce karting to a country where it was relatively unknown.
As word spread about this exhilarating and accessible form of racing, more young individuals and families began to take an interest. Karting started becoming a family activity, with parents supporting their children's passion for racing. Local clubs and organizations started formalizing the sport, organizing races, and providing training opportunities.
The emergence of karting in Pakistan also gained momentum through corporate sponsorships and support from international karting manufacturers. These investments led to better equipment, improved tracks, and more competitive racing.
Over time, Pakistan started producing its own talented karting drivers who began participating in international competitions, earning recognition on a global scale. This not only elevated the status of karting within Pakistan but also inspired younger generations to pursue karting as a serious sport.
Today, karting has firmly established itself as an integral part of Pakistan's motorsport culture. The emergence of karting in Pakistan is a testament to the passion, dedication, and collaborative efforts of individuals, families, and organizations who have worked tirelessly to bring this exciting sport to the forefront of the country's sporting landscape.
Challenges and triumphs
In Pakistan, there are several approved karting tracks including; Omni Track in Karachi that is made on the international standards, while the ones in Islamabad and Lahore, are managed by the 2F2F Karting Club. These facilities offer a safe environment and provide necessary safety gear for enthusiasts of karting and car racing. However, despite these developments, the level of karting in Pakistan is still considered subpar, according to Ahmed Yastoor Mirza.
Ahmed Yastoor Mirza holds the distinction of being the first Pakistani to stand on the podium at the Formula BMW Race in Madrid, Spain, in 2011. He has also participated in three other Formula Gulf 1000 races with his Suzuki RFR F1000. Yastoor is among the elite kart racers who have proudly represented Pakistan in international racing competitions. Despite residing in Pakistan, Yastoor, too, had to venture abroad, specifically to England, to practice and compete in his beloved sport.
Yastoor's introduction to karting came by chance during a vacation in England while visiting his brother. The sport quickly captured his heart, and upon returning to Pakistan, he joined the local karting club in his hometown of Islamabad. However, he soon discovered that the quality of tracks and karts in Pakistan fell far short of what he had experienced in England. Consequently, Yastoor made the decision to travel to England regularly, eventually transitioning into professional racing on foreign soil.
He emphasized that the absence of local competitions and international representation compelled him to seek opportunities abroad. "There is a need for improving the quality of karting in Pakistan, even though more tracks are being established. If Pakistan aims to produce professional racers, it must elevate the standards of karting, as it is widely acknowledged that all professional racers begin their journey in the world of karting," he said.
Syed Ovais Naqvi, the CEO & Managing Partner of Omni Motorsport, is enthusiastic about their karting track, which he proudly describes as "one of the best tracks in the world." Measuring an impressive 1.6 kilometers, it ranks among the world's top 5 longest karting tracks, and Naqvi and his team are committed to elevating it to "the best karting track in the world."
According to Naqvi, what draws people to their facility are two key factors: the environment and the unique experiences it offers. He believes that once visitors experience the thrill of karting there, they'll be compelled to return, often bringing along friends and family, fostering the growth of their karting community. In his words, "That is how we grow our karting family."
When discussing the broader motorsports landscape in Pakistan, Naqvi sees vast untapped potential. Karachi, Pakistan's largest city, boasts a considerable number of drivers with experience in competitive karting, exposure to car races, and a dedicated following of Formula car racing. Naqvi anticipates that their world-class track will attract these motorsport enthusiasts. Moreover, events like the Red Bull Kart Fight provide an essential platform for these individuals to showcase their skills.
Looking ahead, Naqvi outlined their ambitious plans, including hosting three rounds of a 24-hour endurance event and six rounds of individual driver competitions annually, each featuring over 200 participants. These initiatives are aimed at crowning a National Champion in both team and individual categories, a development that, in Naqvi's view, will significantly contribute to the growth of the emerging motorsports market in Pakistan.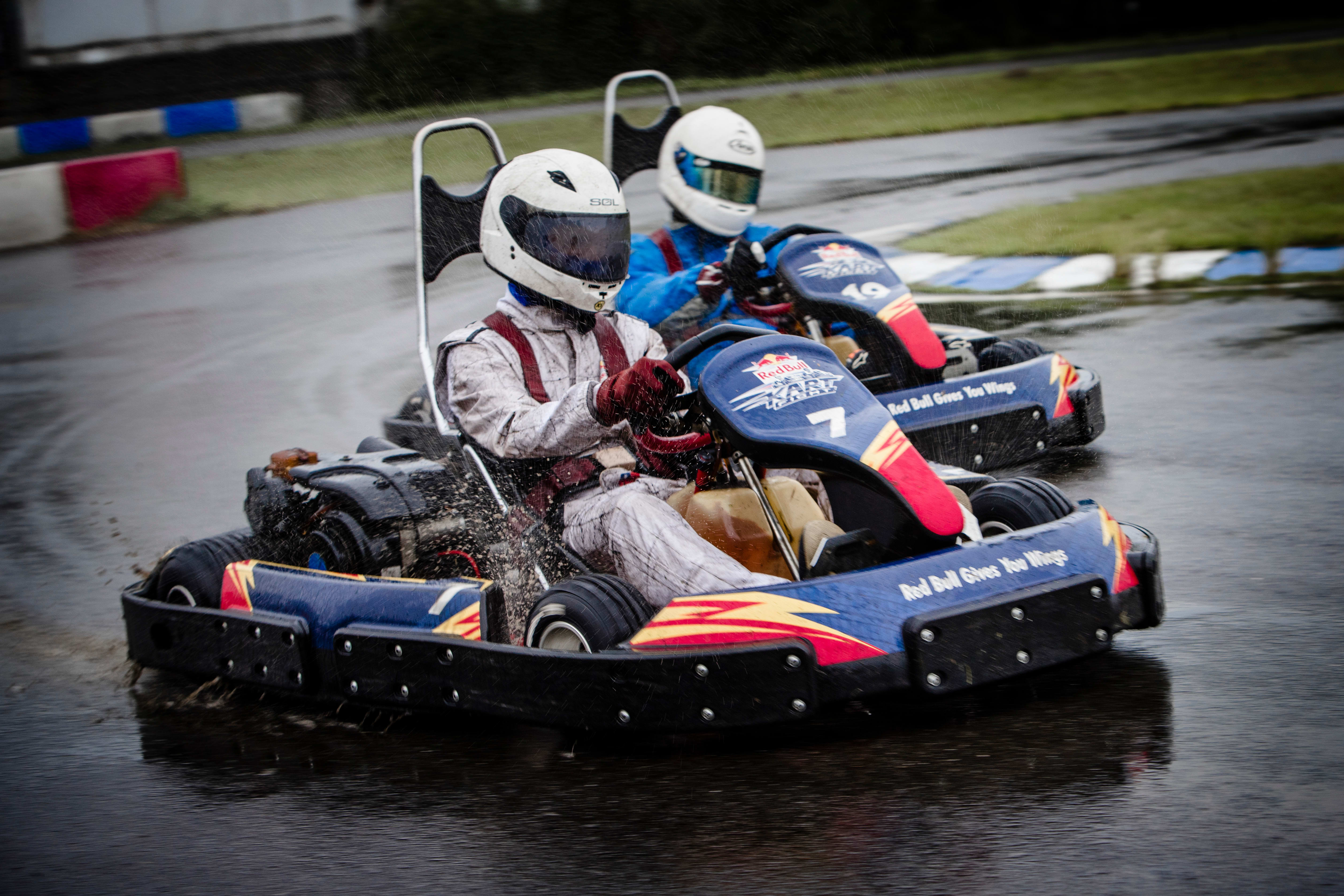 Local competitions revitalise karting
In recent years, the landscape of motorsports in Pakistan has undergone a dynamic transformation, driven by the surge of local karting competitions that have emerged as crucibles of talent and passion for the sport. Among these, the Red Bull Kart Fight has stood out as a pioneering force, not only hosting its inaugural edition in 2020 but also recently concluding its fourth edition in 2023 with resounding success. These events have played an instrumental role in catapulting karting into the mainstream of Pakistani sports culture, attracting over a thousand racers from across the nation in three major cities. As the thrill of karting continues to capture the hearts and minds of enthusiasts, it has paved the way for a promising future for motorsports in Pakistan.
Bilal Jawed Udhi, the Marketing Manager at Red Bull Pakistan, shared insights into how local competitions like Red Bull Kart Fight have had a profound impact on Pakistan's karting scene.
"The Red Bull Kart Fight is a true reflection of Red Bull's unwavering dedication to motorsports, a core passion of our brand. Our global involvement in motorsports, supporting teams like Red Bull Racing and Alpha Tauri Racing in Formula 1, underscores our commitment. KartFight is a major worldwide initiative designed to connect with motorsport enthusiasts and offer them a taste of association with the world's premier motorsport brand. We aim to provide them with the wings they need to elevate their karting experience," he explained.
Regarding the evolution of Red Bull Kart Fight in Pakistan, Bilal observed, that the growth and transformation have been astounding, driven primarily by the participants themselves. "The level of competition has soared, as I personally witnessed at the circuit during the final of Red Bull Kart Fight last week. The racing spectacle was truly breathtaking, a testament to how individuals have elevated their karting skills to new heights. Many have expanded their horizons, competing internationally on circuits in Dubai and around the world. Companies like Omni have played a pivotal role in nurturing these talents," he said.
When discussing the impact of Kart Fight on karting and motorsport culture in Pakistan, Bilal underscored its significance. He noted that Kart Fight, as the flagship motorsport event, consistently nurtures a thriving motorsport community. It serves as a potent source of inspiration for the younger generation, igniting their fervor for racing and propelling them toward the pursuit of excellence. Bilal also expressed optimism about the future, suggesting that the emergence of a Pakistani driver on the Formula 1 circuit could become a reality, thanks in no small part to events like Kart Fight, which play a pivotal role in steering that dream toward realization.
Looking forward, Bilal outlined Red Bull's ambitious vision for Kart Fight, stating, "Our goal is to transform KartFight into an all-encompassing motorsports culture celebration that extends beyond karting alone. We envision incorporating elements like vintage car shows and television coverage, inspiring millions along the way. Throughout the year, we'll continue to extend our support and partnership with local circuits such as Omni in Karachi and 2F2F in Lahore and Islamabad. Collaborating with Red Bull athletes who excel in this field, we aim to enhance the skills of local karting enthusiasts, making them exceptionally proficient in their craft."
These events have not only brought karting to the forefront of sports culture but have also ignited a passion for racing among the nation's youth. As karting's popularity continues to soar and the sport reaches new heights, Pakistan's motorsports future looks brighter than ever, promising an exciting journey for all enthusiasts and aspiring racers.
Racing odyssey
Sufyan Ahmed, the recent winner of the Red Bull Kart Fight 2023, shared his journey as a racer, reflecting on how he got started and the significant improvements he's made along the way.
"At first, my cousin used to kart at Omni Karting Circuit, and one day, he took me along. It was during an endurance race, and the excitement and competition's buzz were just incredible. The races had me hooked, and that's when I decided to dive into karting myself," Sufyan explained with enthusiasm.
"In the early days, I can't say I was a natural talent. But interestingly, I seemed to have a knack for it right from the start, even outperforming my cousin in my first attempt. Seeing my initial timing at 1m45s motivated me to push harder, and now I've managed to achieve my personal best of 1m33s," he proudly shared his progress.
When discussing the karting scene in Pakistan, Sufyan expressed his belief that Omni Circuit offers the most favorable karting environment and track in the entire country, a sentiment he considered to be a positive development.
In an unexpected revelation, Sufyan disclosed that his family had remained unaware of his involvement in karting until he secured the top position. However, he noted that they had since become enthusiastic supporters of his continued pursuit in the sport.
Commenting on the appeal of karting to today's generation, Sufyan highlighted its attractiveness to young individuals who share a passion for speed and cars. He described karting as an ideal platform for those seeking to satiate their thirst for high-speed driving experiences.
When asked about the importance of training in karting, Sufyan emphasized, "Training is incredibly important; I can vouch for that. I know I need more training to improve my score and master the racing lines even better. I'm also unfamiliar with the experience of karting with weights, so it's definitely going to affect my performance. So, yes, training is a must."
As for his future plans, Sufyan declared, "I'm definitely going to continue karting, and I have big plans. I intend to travel abroad to gain further experience and explore different tracks. There's a lot more to come from me in the world of karting."
Future prospects
The future of karting in Pakistan holds great promise, with numerous opportunities for expansion, talent development, and international recognition.
There is a growing demand for state-of-the-art karting facilities across the country. Investments in infrastructure and the establishment of modern tracks can significantly contribute to the sport's growth.
Investments in professional training and coaching programs can elevate the skills of local karting enthusiasts to international standards. Collaborations with experienced international coaches can be a valuable step in this direction.
Karting serves as an ideal platform for nurturing young racing talent. The creation of grassroots programs and karting academies can help identify and groom young racers from an early age. Local competitions and leagues can serve as vital breeding grounds for future racing stars.
Pakistani racers are increasingly venturing onto international karting circuits, and this trend is expected to continue. Participation in international competitions provides invaluable experience and exposure, potentially opening doors to international recognition.
Collaboration with corporate sponsors can inject much-needed financial support into karting, enabling the organization of larger and more competitive events. Such partnerships can offer lucrative opportunities for aspiring racers and promote a culture of motorsports sponsorship in Pakistan.
Hosting international karting competitions in Pakistan can not only showcase the country's capabilities but also bring global attention to its karting scene. Such events can help establish Pakistan as a credible destination for motorsports.
The future of karting in Pakistan is poised for growth and international recognition. With the right infrastructure, investments, and talent development initiatives, Pakistan has the potential to make a significant mark on the global karting stage and produce future motorsports champions. The dedication of emerging individuals, experienced ones and the support of organizations like Red Bull indicate that Pakistan's motorsports journey is just beginning.