Power outages hit ICU and pediatric ward, officials at Gaza's main hospital say after night of bombardment
TEL AVIV — Power outages have hit the intensive care unit and the pediatric ward at Gaza's main hospital after heavy bombardment and fighting near the facility overnight and into the morning, Palestinian health officials said Saturday.
An infant was among two people who died at the Al-Shifa Hospital in Gaza City "because we did not have electricity," Dr. Marwan Abusada, a surgeon at the hospital who is also head of International Cooperation at the Hamas-run Ministry of Health told NBC News in a telephone interview.
Doctors were still providing care for patients as best as they could and were relying on a "battery system" in the intensive care unit, he added.
Separately, Dr. Ashraf Al-Qudra, a spokesman for the Palestinian Ministry of Health, told a news conference that the complex was effectively out of service because of the heavy bombardment. He said the intensive care and pediatric departments were hit with power outages. He also said that two people had died.
Both said there was a lack of food and water at the facility, too. "We don't have electricity. We don't have water. Even we don't have food," said Abusada.
NBC News was not immediately able to independently confirm the situation on the ground.
A spokesperson for the Israeli military said in a statement on Saturday that there was "ongoing intense fighting against Hamas in the vicinity" of Al-Shifa hospital. Soldiers were "taking all feasible measures under operational circumstances to mitigate harm to civilians," they said adding that they could not answer questions related to "specific military activity currently underway."
Hospital workers were struggling to give people proper burials, Abusada said, adding that it was too dangerous for them to leave the complex to bury the dead.
"They will attack the people who will go make a hole in the ground to bury these people," he said, referring to Israeli military. Asked for comment on this, the IDF referred NBC News to its statement about ongoing fighting in the area.
Health officials in Gaza say more than 11,000 have been killed. It is unclear how many burials have taken place.
The World Health Organization was "extremely disturbed" by the reports of strikes on the Al-Shifa hospital, its Director-General Tedros Adhanom Ghebreyesus said in a post on X Friday.
He called for international humanitarian law to be respected and for a humanitarian cease-fire in the fighting, noting that in recent days four hospitals "have been put out of action."
"Many health workers we were in contact with have been forced to leave the hospital in search of safety," he added. "Others report being unable to move due to grave insecurity."
While thousands of people have in recent days heeded Israeli calls to leave northern Gaza and head south, Abusada said it was impossible for some patients to leave Al-Shifa — one of a number medical complexes situated in the north of the enclave.
"We cannot evacuate from the hospital because we have a huge number of injured people still in the hospital," Abusada said, adding that doctors would not abandon their patients. "We have to provide care for them," he said.
The Israeli military has alleged that Hamas hides under hospitals in tunnels, including below Al-Shifa — allegations that both Hamas and hospital workers have denied.
Additionally, a senior Israeli security official told NBC News on Thursday that at least one strike on the complex that day had been from a projectile launched by a militant group inside Gaza that misfired. The official said the IDF was conducting an "extensive review of its operational systems and intelligence" regarding the strike.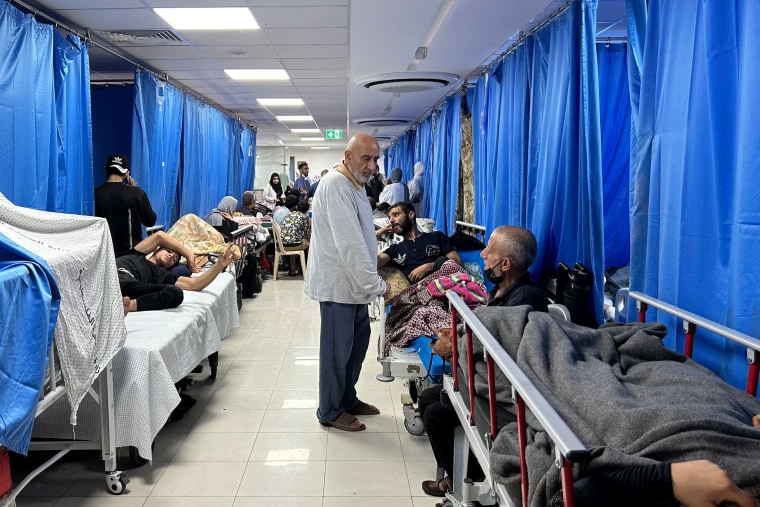 It was the second time that Israel has suggested a misfired militant rocket hit a hospital. Last month, it blamed a failed rocket from the Islamic Jihad group for a blast at the al-Ahli Baptist Hospital. The U.S. made a similar assessment. Palestinian officials and Hamas said that Israel hit the hospital and killed hundreds of civilians in a deliberate act.
At Al-Shifa, Dr. Adnan Albursh, a consultant orthopedic surgeon, said on Thursday that if he knew of the presence of Hamas militants or any other "terrorist" at the hospital, he would leave.
"I am a doctor and this is my home," he said, asserting that only medical health professionals and those in need of help were allowed inside.
Amid heavy fighting around the hospital, Abusada said he feared for the future of the facility and those sheltering on its grounds.
"We have a huge number of injured people who are in the hospital and we have to take care of them," Abusada said.
"Yes, I am scared," he added. "But this is my duty."