The three plaintiffs in the Supreme Court's landmark LGBTQ workplace discrimination ruling were inducted into the U.S. Department of Labor's Hall of Honor on Wednesday. 
Gerald Bostock, Aimee Stephens and Donald Zarda were at the center of the high court's Bostock v. Clayton County, Georgia, decision on June 15, 2020. All three had alleged they were unlawfully discriminated against due to their sexual orientation or gender identity, and the Supreme Court agreed, finding existing federal law prohibits such discrimination. 
In a 6-3 decision written by Justice Neil Gorsuch, a Donald Trump appointee, the court found that Title VII of the Civil Rights Act of 1964 — which makes it illegal for employers to discriminate due to an employee's sex, among other factors — is inclusive of workplace discrimination based on sexual orientation and gender identity. 
The majority opinion states that "it is impossible to discriminate against a person for being homosexual or transgender without discriminating against that individual based on sex."
The trio were inducted into the Labor Hall of Honor — which was established in 1988 — in a ceremony at the Labor Department's Frances Perkins Building in Washington, D.C., though Stephens and Zarda were honored posthumously.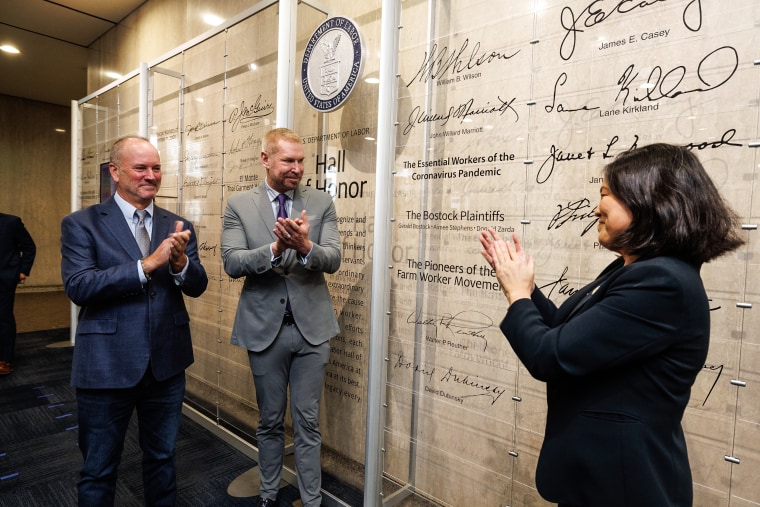 The inductees
Bostock was fired in 2013 from his job of 10 years as a social services worker after joining a gay softball league, according to the ruling. Within months of being fired, he filed a discrimination claim with the Equal Employment Opportunity Commission but struggled to convince lower courts of the merits of his case until it was appealed and elevated to the highest court.
"At that time, we were living here in this world where someone could marry his or her partner on Saturday or Sunday, and then go to work and be fired for that on Monday," Bostock told NBC News on Wednesday, just ahead of the induction ceremony.
In 2022, after the Supreme Court ruling, Bostock agreed to a settlement with Clayton County, Georgia, to the sum of $825,000, according to his lawyer.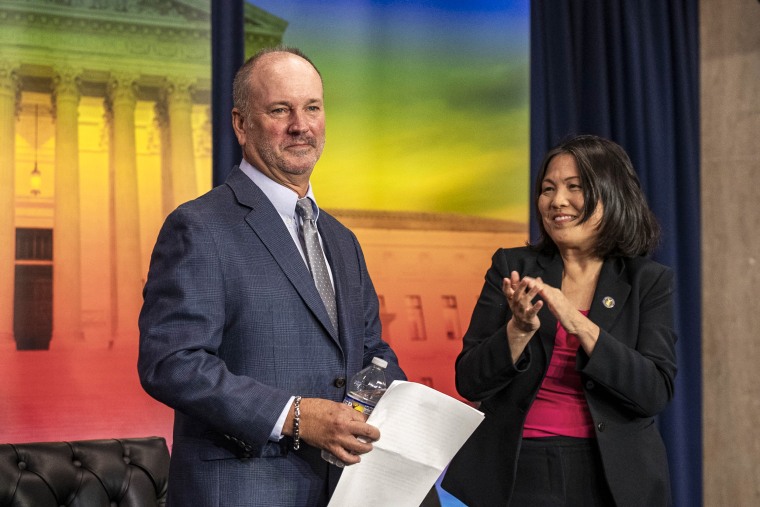 Zarda was fired from his beloved job as a skydiving instructor in 2010 after disclosing that he was gay to a client — something he often did with female clients to "mitigate any awkwardness that might arise from the fact that he was strapped tightly" to them during the skydiving, according to legal documents. After his termination, he filed a discrimination lawsuit against his former employer, Altitude Express.
In 2018, eight years after he initially filed the suit, the 2nd U.S. Circuit Court of Appeals decided in his favor. Two years after that, the Supreme Court ruled in favor of Bostock, the combined case in which he was a named plaintiff along with Bostock and Stephens.
Zarda, however, did not live to see either victory or realize his impact on LGBTQ worker protections. In 2014, at just 44 years old, he died in an accident that occurred while BASE jumping.
William Moore, Zarda's surviving partner, said that after Zarda was fired, the pair faced difficulties finding a lawyer who would take on the case. The lawyers they initially consulted had told them, "There's no chance of him having success with this case," Moore said.
"If I could send him a text and tell him what was happening, he wouldn't believe what's happening right now," Moore told NBC News. "I think about him daily, and I would love to be able to share this with him, because he would be ecstatic and be very honored."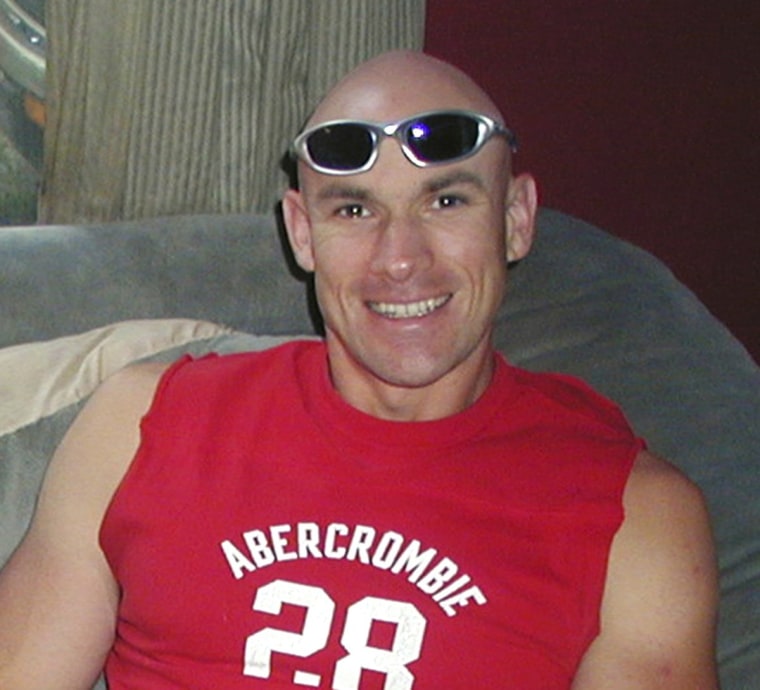 Stephens was the third plaintiff in Bostock v. Clayton County, Georgia, and was the first transgender person whose civil rights case was heard by the Supreme Court.
After coming out as transgender in 2013 to her employer, a Detroit-area funeral home, she was fired. Stephens, after undergoing treatments for kidney disease for years, died at 59, just one month before the Supreme Court delivered its landmark decision.
Acting Labor Secretary Julie Su, who was part of Wednesday's induction ceremony, said people like Bostock, Stephens and Zarda, "who experienced something and can name it as being wrong and then imagine that something different is possible, are for me the real heroes."
"Since I became labor secretary, I always said that one thing I wanted to do was make sure that we told workers who otherwise may have felt invisible or forgotten that we see them and we hear them," she said Wednesday, ahead of the ceremony.