Some posts on this site contain affiliate links, meaning if you book or buy something through one of these links, I may earn a small commission. Read the full disclosure policy
here
.
---
There are some countries and regions of the world that just beg to be explored on a road trip. And I'm a firm believer that New Zealand is one of these countries.
I've been to New Zealand half a dozen times (and have even lived there!) and am here to share my version of a perfect 2-week New Zealand road trip taking in the highlights on both the North and South Islands.
In an ideal world, you'd have the time and money to spend at least a month in New Zealand in order to really appreciate it. But we don't live in an ideal world, and I know that many of my fellow Americans only get about two weeks of vacation time to use every year.
With that in mind, here's my suggestion for a 2-week New Zealand road trip that includes all the major must-sees from cities to mountains to hobbit holes to fjords, as well as some short hikes and cool activities you can add to make your trip extra memorable.
Highlights of this 2-week New Zealand itinerary include:
Exploring Auckland
Wine tasting on Waiheke Island
A visit to Hobbiton
Geothermal wonders in Rotorua
The capital city of Wellington
The cool and quirky Nelson
Driving down the West Coast of the South Island
Glacier hiking in Franz Josef
Beautiful scenery in Wanaka
Adventure sports in Queenstown
Day trip to Milford Sound
Seeing Aoraki/Mount Cook
Visiting Christchurch
Plus much more!
First things first: Car vs. campervan
We've already established that road tripping is the best way to see New Zealand. But when planning a NZ road trip, you have two main modes of transport to consider: a car, or a campervan.
The benefits of renting a car are that it's usually much cheaper, cars are easier to handle on New Zealand's narrow and winding roads, and there's more inventory on both islands.
The benefits of renting a campervan are that you can save some money by camping and cooking your own meals. Plus, campervanning around New Zealand is an iconic way to explore the country!
Both are excellent choices, and it all boils down to your budget and your preferred accommodation type. If you prefer B&Bs and hotels, rent a car. If you're up for sleeping in a van at campsites and holiday parks, then a campervan might be right for you.
For car rentals, you can compare prices here. For campervans, I recommend checking out brands like Spaceships for smaller vans (this is who I personally used), and Euro Campers, Britz, or Maui for larger campers.
Other New Zealand road trip posts you may want to read:
The best time of year for a New Zealand road trip
You can road trip New Zealand year-round; I personally have visited the country in just about every season! The weather can of course vary from region to region depending on the season, but you can usually access all the main stops at all times of year.
Having said that, though, you'll likely find the most favorable weather and largest amount of tours/attractions open during the summer months (which are generally December-February in New Zealand). The shoulder seasons on either side (esp. November and March) are pretty good options, too.
My favorite month to visit has probably been November (late spring), for decent weather, blooming lupins, and less crowds than during full summer.
The perfect 2-week New Zealand road trip itinerary
This itinerary is based 100% on my own personal experience – I've been to New Zealand 5 separate times, have done multiple road trips there, and even lived in Wellington for a while in 2008!
Spending 2 weeks in New Zealand will never feel like long enough, but I've done my best to distill all the highlights down into one itinerary.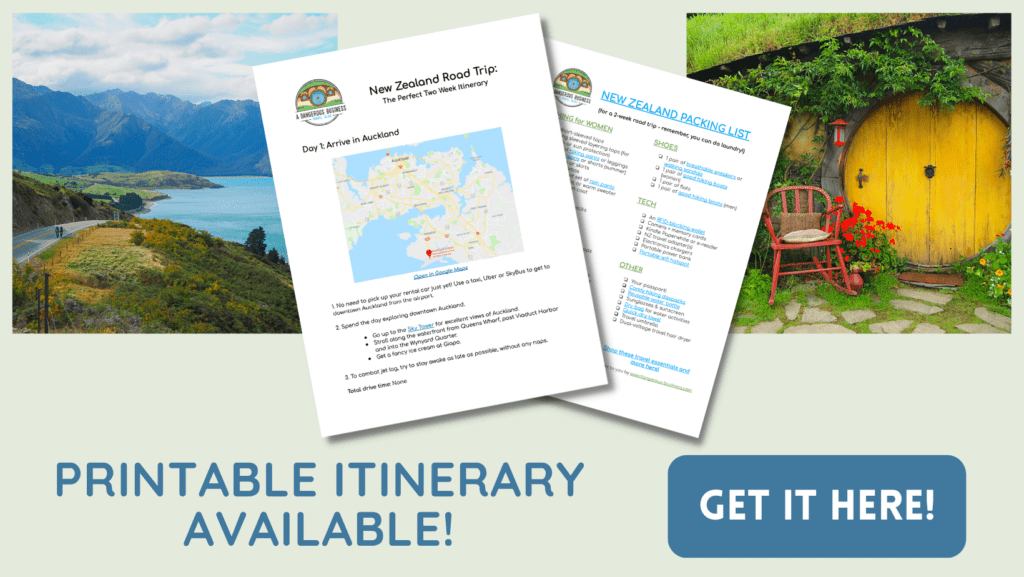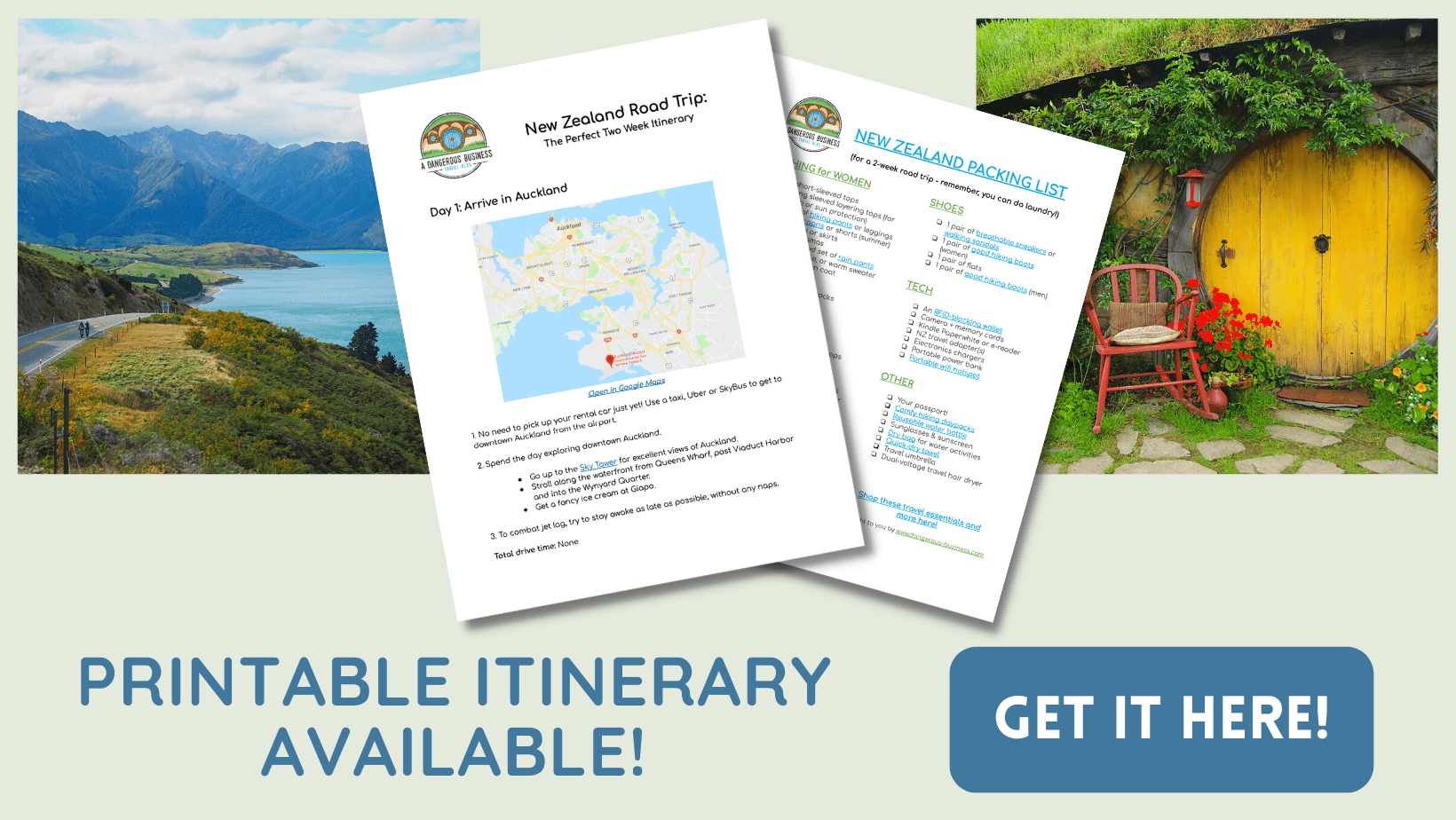 Day 1 – Arrive in Auckland
Even though this is a road trip itinerary, I actually don't recommend picking up your rental car (or campervan, or whatever it is you're going to rent) until Day 3 of this itinerary. You don't really need a vehicle to get around in Auckland, so save yourself a couple days of rental fees!
You'll likely arrive in Auckland this morning. You probably won't be able to check into your hotel yet, but you can definitely drop off your luggage and maybe change your clothes in preparation for an afternoon of exploring Auckland.
Some things I recommend doing today include:
Going up the Sky Tower for excellent views of Auckland (buy tickets in advance here)
Strolling along the waterfront from Queens Wharf, past Viaduct Harbor, and into the Wynyard Quarter
Getting a fancy ice cream at Giapo
RELATED: The Best Things to Do on Your First Trip to Auckland
By the time you've done this (and thrown in some lunch and maybe a bit of shopping), you'll be able to head back to your hotel to check in and just crash.
In order to combat the jet lag, I recommend trying to stay up as late as possible without any naps. But ordering room service and going to bed by 8 p.m. tonight is totally acceptable.  😉
Total driving time today: 0 hours
Sample costs: Sky Tower admission – $41 NZD
Where to stay in Auckland: I love the Grand Millennium Auckland. This upmarket CBD hotel is clean and comfortable, and has a lovely staff. There's an indoor pool, a bar, and two restaurants on-site, plus a pretty great room service menu. You can walk to the Sky Tower and harbor in about 15 minutes. (Read reviews on TripAdvisor | Book a room here!)
Day 2 – Waiheke Island
Jet lag will likely have you up early this morning, so you may as well take advantage of it! There are plenty more things to do in Auckland, but my top pick is to take a day trip out to Waiheke Island. This island is located just a 40-minute ferry ride from Auckland, and ferries start running fairly early in the morning.
Waiheke Island is known for its wineries and beaches, and makes for a perfect day trip from Auckland.
Catch the ferry over, and then either use the bus or rent a bike to get around the island (though note that parts of it are pretty hilly!). You can visit white-sand beaches at Oneroa, Palm Beach, and Onetangi, or visit wineries like Cable Bay, Mudbrick, and Stonyridge.
If you'd rather not explore the island on your own, sign up for a food and wine tour of Waiheke (this is a pretty good deal!), or a day trip to Waiheke that includes transport from Auckland.
Back in Auckland, have a leisurely evening in preparation to hit the road on Day 3!
Total driving time today: 0 hours
Costs: Ferry to Waiheke – starting at $38 NZD roundtrip
Where to stay in Auckland: I still recommend the Grand Millennium Auckland tonight!
Day 3 – Matamata and Rotorua
First up in your New Zealand itinerary today: pick up your rental car or van!*
Picking up your car or campervan today means you can pick up from an Auckland city location as opposed to the airport, which should save you a bit of money. Allow up to an hour for pick-up, as some of the more popular rental companies can be very busy, especially during high season.
*Note for 2023: I would normally recommend booking a single one-way rental from Auckland to Christchurch, taking the ferry between the North and South islands with the vehicle. HOWEVER, there have been ferry disruptions this year especially for those wanting to transport vehicles, so it might be worth it to book two separate car rental reservations: one from Auckland to Wellington, and a second from Picton to Christchurch, and just ride the ferry as a walk-on passenger.
Once you're all set with your vehicle, it's time to start you New Zealand road trip and head south to the farming community of Matamata. You may not be familiar with this town's name, but you probably ARE familiar with its top attraction: Hobbiton!
Nearly 20 years ago, a family sheep farm in Matamata was used as the film set for Hobbiton in the Lord of the Rings trilogy. Lord of the Rings tourism took off in New Zealand after the success of the movies, and so when they decided to re-build the same Hobbiton set for the Hobbit trilogy, they built it to last.
Today, you can tour the set of Hobbiton – and it's magical even if you aren't a Lord of the Rings fan.
It takes about 2 hours to get to Hobbiton from Auckland, so plan for an afternoon tour of the Hobbiton movie set. Tours leave from the Shire's Rest roughly every half hour, but you DO want to book in advance since tours often sell out. (Book a guided tour here.)
You'll spend the next 2 hours being guided around the 12-acre movie set, taking in all the hobbit-y details and hearing stories about filming. The tour will end with a drink in the Green Dragon Inn.
From here, it's an hour to go to the city of Rotorua, where you'll be spending the next couple of nights.
You'll likely arrive before dinner time, so if you want to do something relaxing this evening, I recommend booking a time slot at the Polynesian Spa. The pools at this spa overlook Lake Rotorua, and are filled with geothermal mineral water sourced from two nearby natural springs. Definitely go for the Deluxe Lake Spa for ultimate relaxation.
Total driving time today: 3 hours
Costs: Hobbiton tour – $89 NZD; Polynesian Spa – $50 NZD for the Deluxe Lake Spa (book here)
Where to stay in Rotorua:
If you're traveling in a campervan, I recommend staying at Rotorua Thermal Holiday Park. This holiday park has nice common areas, thermal pools you can use, and even a resident cat to make friends with. It's not within walking distance to downtown, however.
If you're renting a car, I recommend Aura Accommodation (one of the highest-rated options on TripAdvisor), or Black Swan Lakeside Boutique Hotel if you're looking for a little luxury.
Day 4 – Rotorua
Today, spend the day exploring Rotorua. This is one of the most geothermally-active areas in New Zealand – and you can tell by the whiffs of sulphur you'll get all throughout the city.
Start your morning off with a visit to Wai-O-Tapu Thermal Wonderland just outside of the city, where you can see everything from geysers to boiling mud to neon-green lakes. There are other thermal parks in Rotorua, but this one is my favorite! (Book a ticket here)
The Champagne Pool and Devil's Bath are definitely must-sees. Allow at least 2 hours to walk all the park's trails.
Note: If for whatever reason Wai-O-Tapu is closed or tickets are sold out, the Hells Gate Geothermal Reserve is a good alternative.
After getting your fill of geothermal oddities, head to the Redwoods Treewalk, where you can spend an hour traversing a series of suspension bridges high up in a grove of redwood trees (because yes, redwoods totally grow in Rotorua!). This is a very unique spot – definitely worth a stop!
This afternoon, you can explore a bit of downtown Rotorua. Grab lunch on Eat Streat (a cool collection of restaurants), visit the Government Gardens, and stroll along Lake Rotorua. You'll see a Skyline Gondola here above the lake, and it's a more affordable option that the one in Queenstown in case you want to try out the luging!
Tonight, I recommend splurging on a visit to one of Rotorua's Maori villages. While you can experience New Zealand's native Maori culture all over the country, Rotorua has some of the best cultural shows.
Places like Te Pā Tū (formerly Tamaki Village) and Mitai Village offer nightly dinner-concert packages, which include a traditional hangi dinner (food cooked in an earthen oven) along with a concert/show that includes traditional Maori songs and dances. These aren't particularly cheap, but it's a must-have experience if it's your first trip to New Zealand.
(And while these experiences are definitely touristy, they are very culturally traditional and presented/performed by Indigenous peoples.)
Total driving time today: Less than 2 hours (it takes about 30 minutes to drive to Wai-O-Tapu from Rotorua)
Costs: Wai-O-Tapu – $32.50 NZD per adult; Redwoods Treewalk – $37 NZD; Maori dinner show – starting around $125 NZD per adult (which includes dinner, concert, and transport from your accommodation)
Where to stay in Rotorua: Again, I recommend staying at Rotorua Thermal Holiday Park if you're in a campervan, and Aura Accommodation or Black Swan Lakeside Boutique Hotel if you have a regular car.
Day 5 – To Wellington
Day 5 will have you heading to my favorite city in New Zealand: Wellington! It's a bit of a long driving day, but there are some cool things you can see along the way.
You can stop to see Lake Taupo (the largest lake by surface area in New Zealand), and definitely drive south down Highway 1, which has a section called the "Desert Road," where you can get some great views of the volcanoes in Tongariro National Park if the weather is clear.
You should make it to Wellington by dinnertime even with some stops, so I recommend checking in to your hotel and then heading into the city for dinner. Cuba Street especially has some great food and entertainment options.
Total driving time today: 6 hours
Costs: No attraction costs today
Where to stay in Wellington:
If you have a campervan, the best campsite closest to Wellington is probably the Wellington Top 10 Holiday Park, though it's still 15 km from central Wellington. You might want to consider staying at a downtown hotel for the next 2 nights even if you have a campervan, simply because it's easier to park and explore Wellington on foot than to drive into the city every day.
If you have a car (or just decide to stay downtown), my top hotel picks are Rydges Wellington and the Copthorne Hotel Wellington Oriental Bay (I've personally stayed at both!).
Day 6 – Wellington
You really need multiple days to fully explore Wellington, but you can still cover most of the city's highlights in just one day.
If you're staying at the Copthorne, I recommend starting out with a walk along Wellington's waterfront since you'll be staying right at Oriental Bay, Wellington's only city beach. You can walk all the way from the beach past the harbor, and then cross the quirky City to Sea Bridge to reach the city center.
Along the way, you may want to pop into Te Papa Tongarewa, the national museum of New Zealand. It's located on the waterfront and is free to visit (or you can pay a small amount for a guided museum tour). It's an especially great place to spend time if you hit bad weather in Wellington. (Though even if you don't, I still recommend visiting as it's an excellent museum!)
Next, it's up the hill with the Wellington Cable Car, which takes you from Lambton Quay (the city's main shopping street) to Kelburn Station at the Wellington Botanic Garden. From the upper station, you get the best views out over Wellington.
(You can even pre-book your cable car tickets if you want, though you don't have to.)
In the afternoon, you have a couple of options. Either you can continue wandering around the downtown area (Cuba Street is great for people watching, and Courtenay Place is also lively), or you can make a trip out to Weta Workshop in Miramar.
Weta Workshop is the place where movie art, effects, and props have been created ever since the Lord of the Rings trilogy put New Zealand on the movie-making map. The behind-the-scenes Weta tour is super interesting even if your aren't a big fan of hobbits and orcs. (Book an entry ticket here, or a ticket with transfers here.)
If you're up for one more epic view of the city, you can make your way by car or bus up to the viewpoint atop Mount Victoria around sunset. It's almost always super windy at the top, but the views out over Wellington are stunning.
RELATED: 15 Essential Things to Do in Wellington, New Zealand
Total driving time today: 0 hours
Costs: Cable car – $9 NZD for a roundtrip ticket; Weta tour – $90 NZD for a tour with transfers
Where to stay in Wellington: Again, I recommend Rydges Wellington and the Copthorne Hotel Wellington Oriental Bay for staying downtown, or the Wellington Top 10 Holiday Park if you're looking for a good campsite.
Day 7 – Ferry to South Island / Nelson
After nearly a week on the North Island, it's time to wave goodbye to the hills and prepare to say hello to the mountains! Take a late morning ferry from Wellington across the Cook Strait to Picton.
You have two ferry options: the Interislander and Bluebridge. Both ferries are similar in price and amenities, so you might just decide who to sail with based on their timetables. (Definitely book ahead, though, since you'll be taking a vehicle!)
This ferry ride usually takes at least 3.5 hours, but the ferries that run this route are large with comfortable lounge chairs, large windows, and usually at least one cafe. Make sure to go out on deck once you reach the Queens Charlotte Sound, as the scenery is pretty spectacular!
Once you disembark in Picton, it's a 2-hour drive to the city of Nelson.
Nelson is known for its artsy vibe and location on Tasman Bay. If you arrive early enough, I recommend visiting the WOW Museum (which displays pieces from the annual World of Wearable Art event) and the Nelson Classic Car Collection.
Total driving time today: 2 hours
Cost: A one-way ferry ride with a car + 2 people starts around $225 NZD (and you do want to book ahead!)
Where to stay in Nelson:
Day 8 – West Coast
I won't sugarcoat it: today is going to be a very long day of driving; there's just no way around it. But no New Zealand road trip would be complete without driving down the wild West Coast, so hopefully you're up for the adventure!
Get an early start today so you can make a few stops along the way. From Nelson, take Highway 6 south. And then just stay on 6 basically the whole day!
Your first major stop will be in Punakaiki on the edge of Paparoa National Park. This is one of the most stunning parts of the West Coast, and in Punakaiki you'll find the famous Pancake Rocks.
These aren't just a couple of flat rocks, though – the area is full of stacks of the things, along with natural blowholes and some very Jurassic Park-esque scenery.
After you spend some time on the loop trail here, Punakaiki is a good spot to stop for lunch.
From Punakaiki, continue south to the city of Greymouth, the largest city on the West Coast. Greymouth is home to Monteith's Brewery, one of the top craft breweries in New Zealand. If you time it right, you can take a brewery tour here (shoot for the 3 p.m. or 4 p.m. tour). If not, you can still stop in for a tasting.
From there, it's a couple more hours to the small town of Franz Josef Glacier.
Total driving time today: 7 hours
Cost: Monteith's Brewery tour: $25 NZD
Where to stay in Franz Josef:
If traveling with a campervan, check out the Rainforest Retreat, which offers everything from campervan sites to luxury treehouses.
If traveling with a car, Aspen Court is the top-rated motel in Franz Josef with large rooms within walking distance to everything in town. If you're looking for a more luxurious spot to spend a couple nights, go for the Glenfern Villas, which are little further outside the town center.
Day 9 – Franz Josef
This part of the West Coast is even more wild and unique than what you saw yesterday, thanks mostly to the glaciers that snake down from the mountains into the temperate rainforest on the coast. There are two glaciers in the area: Franz Josef Glacier and Fox Glacier.
Sadly, both glaciers have retreated a lot in recent years, and because their terminal faces are unstable, the only way to hike on either glacier now is by doing a heli-hike. A glacier heli-hike is an EPIC experience: you get into a helicopter and fly high up onto the blue-white glacier, and then you get out, don ice crampons, and hike around on the ice for a couple hours before flying back down again.
If you can afford a heli-hike, definitely book one; this is the best glacier experience to have in New Zealand, and I don't think you'll regret it.
HOWEVER, it's worth noting that both Franz Josef and Fox glaciers exist within a rainforest. And when it's too rainy/cloudy, the helicopters won't fly. So, even if you do book a heli-hike, there's really only about a 50/50 chance that you'll get up on a glacier. I recommend booking one for Day 9, with the morning of Day 10 as your back-up.
If you can't do a glacier hike today, some other short walks you can do in the area include:
No matter what you end up doing today, I recommend going for an evening soak in the Glacier Hot Pools. If you do a heli-hike, entry will be included with your ticket and you'll welcome the soothing water after hours on the ice. And if you don't hike a glacier but do some other walks instead, you'll still probably enjoy a good soak, especially if it's been a wet day.
Total driving time today: Maybe an hour or so if you end up driving to do some of these short hikes
Cost: Heli-hikes can be as much as $450 NZD; Glacier Hot Pools – $28 NZD for the main pools
Where to stay in Franz Josef: Again, the Rainforest Retreat, is a good option for campervans (or other types of rooms), and Aspen Court is the top-rated motel in Franz Josef.
Day 10 – To Queenstown via Wanaka
If your glacier heli-hike got canceled on Day 9, see if you can reschedule it early on Day 10. If so, go and get on that ice this morning! If you went hiking yesterday or the glacier hikes get canceled again today (which can happen!), it's time to move on from the West Coast.
From Franz Josef, you'll continue south on Highway 6 along the coast until you get to Haast. From there, you'll head inland and go over the Haast Pass, which is pretty stunning!
If you have time, I recommend stopping in Makarora to do the Blue Pools walk. This short walk includes traversing through a mature beech and podocarp forest, and then crossing two suspension bridges to see the beautiful clear blue pools.
(And I can say from experience that even if it's raining and even if the pools aren't blue because there's been flooding in the area recently, this hour-long hike is still very pretty!)
From the Blue Pools, you'll soon be driving along the northern end of Lake Wanaka, followed by the west side of Lake Hawea. These lakes are absolutely beautiful, and you'll definitely want to pull over at at least a few of the viewpoints for some photos.
Whether you're coming straight from Franz Josef or have spent your morning and afternoon stopping for hikes and viewpoints, I recommend stopping in the lakeside town of Wanaka for some sightseeing and dinner.
Wanaka has become Instagram-famous in recent years for both its Roy's Peak hike, and for That Wanaka Tree, which grows out of the lake.
You won't be able to hike to Roy's Peak in just a couple of hours, but at the very least you should have time to stroll along the lakeshore and see the Wanaka Tree, and then head back to the city center for dinner (there are lots of good restaurants to choose from).
From Wanaka, it's a little over an hour to Queenstown.
If you're traveling in the late spring, summer, or early autumn, I recommend taking the Crown Range Road to Queenstown. The road takes you over a twisty mountain pass, but gives you incredible views as you head down into Queenstown. (I don't recommend taking this road in the winter, though, if you're not comfortable driving on potentially snowy/icy roads.)
Total driving time today: 5 hours
Cost: None, unless you're doing your heli-hike today
Where to stay in Queenstown: 
If you're campervanning it, my pick is the Queenstown TOP 10 Holiday Park, which is located just outside of Queenstown in Arthurs Point. This holiday park has very nice facilities, and best of all has a shuttle to/from downtown Queenstown. It can be very tricky to find parking in Queenstown, so I recommend taking advantage of this service!
If you're renting a car, I recommend staying right in downtown Queenstown – but know you're likely going to have to pay extra for parking. My top picks are the Ramada Hotel & Suites Queenstown Remarkables Park for a more budget-friendly option, or the Sofitel Queenstown Hotel & Spa if you're looking to splurge.
RELATED: Travel Guide: Top Things to See and Do in Queenstown
Day 11 – Queenstown
We're dedicating today to Queenstown, New Zealand's "adventure capital." How much adventure you're up for totally depends on your budget and preferred amount of adrenaline, but I'll lay out a few options that I consider to be must-dos for you.
If you're going to brave a bungee jump in New Zealand, this is where you want to do it. Commercial bungee jumping was "invented" right here in Queenstown, and I recommend the Kawarau Bridge as the ideal first-bungee spot (this is actually where the first commercial jump took place in the 1980s).
You can either drive out to the bungee site yourself, or get a free ride from The Station in downtown Queenstown (I recommend booking ahead and taking the free shuttle from town).
After your jump, why not keep the adrenaline flowing? The other must-do in Queenstown is jet boating, which was also invented here. Jet boats use technology similar to jet skis/seadoos to skim over the top of water, meaning they can operate in the shallow rivers found in the south of New Zealand.
The best introduction to jet boating comes from the Shotover Jet, which operates on the Shotover River and travels through the narrow Shotover Canyon. This is a super fast and super fun ride. (Book in advance here.)
(And if bungee jumping and jet boating are a little *too* adventurous for you? Another great option in Queenstown is to sail on the historic TSS Earnslaw ship across Lake Wakatipu to the Walter Peak High Country Station for lunch. Book that tour here.)
After this, I recommend taking some time to explore downtown Queenstown. This resort town on the shore of Lake Wakatipu is super cute no matter what time of year you're visiting. You may want to take the Skyline Gondola up the mountain for the best views out over the city.
This evening, brave the crowds to try a gigantic burger from the famous Fergburger. (Or, order online for pickup and avoid having to wait in line.)
Total driving time today: Potentially 0 if you take advantage of free shuttles
Cost: Kawarau Bridge bungee – $205 NZD per adult; Shotover Jet – $149 per person; Skyline Gondola – $46 NZD for just the gondola
Where to stay in Queenstown: The Queenstown TOP 10 Holiday Park for campervans, and the Ramada Hotel & Suites Queenstown Remarkables Park or the Sofitel Queenstown Hotel & Spa if you've got a regular car.
Budget tip: As you will have realized by now, New Zealand is not a very cheap place to travel, especially if you want to participate in all these adventure activities. One way you can potentially save money (other than just skipping the pricey stuff) is to start scouting bookeme.co.nz before your trip to see if you can score highly discounted tickets to some of the more expensive activities.
Day 12 – Milford Sound
Today you should head out to New Zealand's #1 tourist attraction: Milford Sound. This mis-named fjord is gorgeous in any weather, and is an absolute must-do for your first trip to New Zealand.
You have several options when it comes to visiting Milford Sound in just one day.
You can self-drive to save some money.
You can book a round-trip bus tour from Queenstown.
You can fly to/from Milford Sound from Queenstown.
I actually recommend a mix of these options.
While self-driving is the cheapest, the drive is long (roughly 5 hours each way), and the roads can be tricky if the weather is bad. Also, if you're driving, you won't be able to properly enjoy the epic scenery along the Milford Road through Fiordland National Park!
I recommend taking the bus one way and flying the other. This way you get to see the Milford Road AND the Southern Alps from the air, and it means you won't spend up to 12 hours on a bus in one day. (Book a tour like this here.)
Once you get to Milford Sound, you'll cruise on the famous fjord on a medium-sized boat for up to 2 hours, taking in the towering cliffs and soaring waterfalls.
You may also be able to spot wildlife like New Zealand fur seals, dolphins, and maybe even little blue penguins.
If you manage to hit a clear day, flying back from Milford Sound over the snowy Southern Alps is nothing short of magical. (Though note that Milford Sound sees far more rainy days per year than sunny ones!)
RELATED: New Zealand Fjord Smackdown: Milford Sound vs Doubtful Sound
If you do the coach-cruise-fly option and get back before dinnertime, it also means that you can fit in one more special thing in Queenstown. Consider booking a private hot tub at the Onsen Hot Pools out at Arthurs Point tonight. This was one of the more romantic things my husband and I did on our New Zealand honeymoon!
Total driving time today: 10 hours if you drive to Milford Sound yourself
Cost: Milford bus trip with cruise and included lunch – anywhere from $165-$245 NZD; Onsen Hot Pools – $165 NZD for 2 adults in the evening (you MUST book this one far in advance, as it's super popular!)
Where to stay in Queenstown: Again, the Queenstown TOP 10 Holiday Park is good for campervans, and the Ramada Hotel & Suites Queenstown Remarkables Park or the Sofitel Queenstown Hotel & Spa are good if you've got a regular car.
Day 13 – Central Otago and Aoraki / Mount Cook
Many people choose to end their New Zealand road trips in Queenstown, but I think you'd be missing out on one of the best parts of the South Island if you were to stop now. Today you're going to drive through the small towns of Central Otago, eventually ending up at New Zealand's tallest mountain: Aoraki / Mount Cook.
From Queenstown, you'll head back out towards the Kawarau Gorge (where you may have gone bungee jumping on Day 11) and then continue on Highway 8. Some places you might want to stop along the way include Cromwell to see the town's giant fruit, and at the viewpoints at the Lindis Pass.
Eventually you'll reach Twizel and Lake Pukaki, which is where you might get an awesome glimpse of Aoraki. Lake Pukaki is a glacially-fed lake, and the color of it is almost always a milky-blue.
You'll drive along Lake Pukaki until you reach Aoraki / Mount Cook Village.
This drive doesn't actually take that long, so this afternoon I recommend going on a short hike nearby. My pick is the Hooker Valley Track, which is a relatively flat and easy trail that takes you to the iceberg-filled Hooker Lake. On a clear day, you'll have views of Aoraki / Mount Cook almost the whole way.
The hike takes 3-4 hours, making it a perfect afternoon walk.
Total driving time today: 3.5 hours
Cost: None
Where to stay in Aoraki/Mount Cook Village: There aren't a ton of options in this tiny village. If you want to camp, there's a Department of Conservation site with good views and basic facilities called the White Horse Hill campsite. If you're looking for a hotel here, the most iconic one is The Hermitage Hotel.
Day 14 – To Christchurch
Today you'll be heading to Christchurch, the largest city on New Zealand's South Island. Get an early start this morning so you can make some stops along the way.
The main must-see stop is Lake Tekapo, another mountain-fed lake that is often a milky-blue color. From mid-November until the New Year, you can find thousands of lupins blooming on the shores here.
Once you get to Christchurch, there's plenty to explore. Even though the city center is still showing the effects of the destruction of two major earthquakes back in 2010 and 2011, business goes on as usual in most parts of the city.
If the weather is nice, definitely take a stroll through the Christchurch Botanic Gardens (or even go punting down the Avon River!). If it's not so nice, the Christchurch Art Gallery is great, or you can pretend you're going much further south by visiting the International Antarctic Centre.
You can also just stroll the streets to shop and spot some cool street art.
Total driving time today: 4.5 hours
Cost: International Antarctic Centre – $59 NZD for adults
Where to stay in Christchurch: 
Day 15 – Time to head home
It's the end of your 2-week New Zealand road trip, and time to head home. Since Christchurch is one of the larger cities in New Zealand and has an international airport, it's easy to drop off your rental car or campervan here and then catch a flight. You'll probably fly back to Auckland before connecting out of the country.
Be prepared, though, that you'll already be adding things to your "next time" list before your plane even takes off! One New Zealand trip is never enough.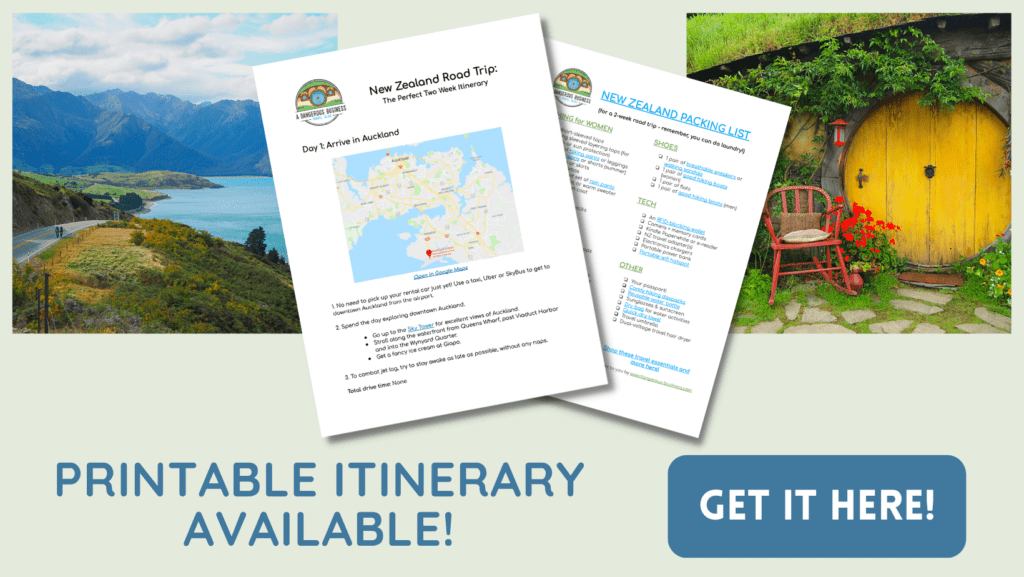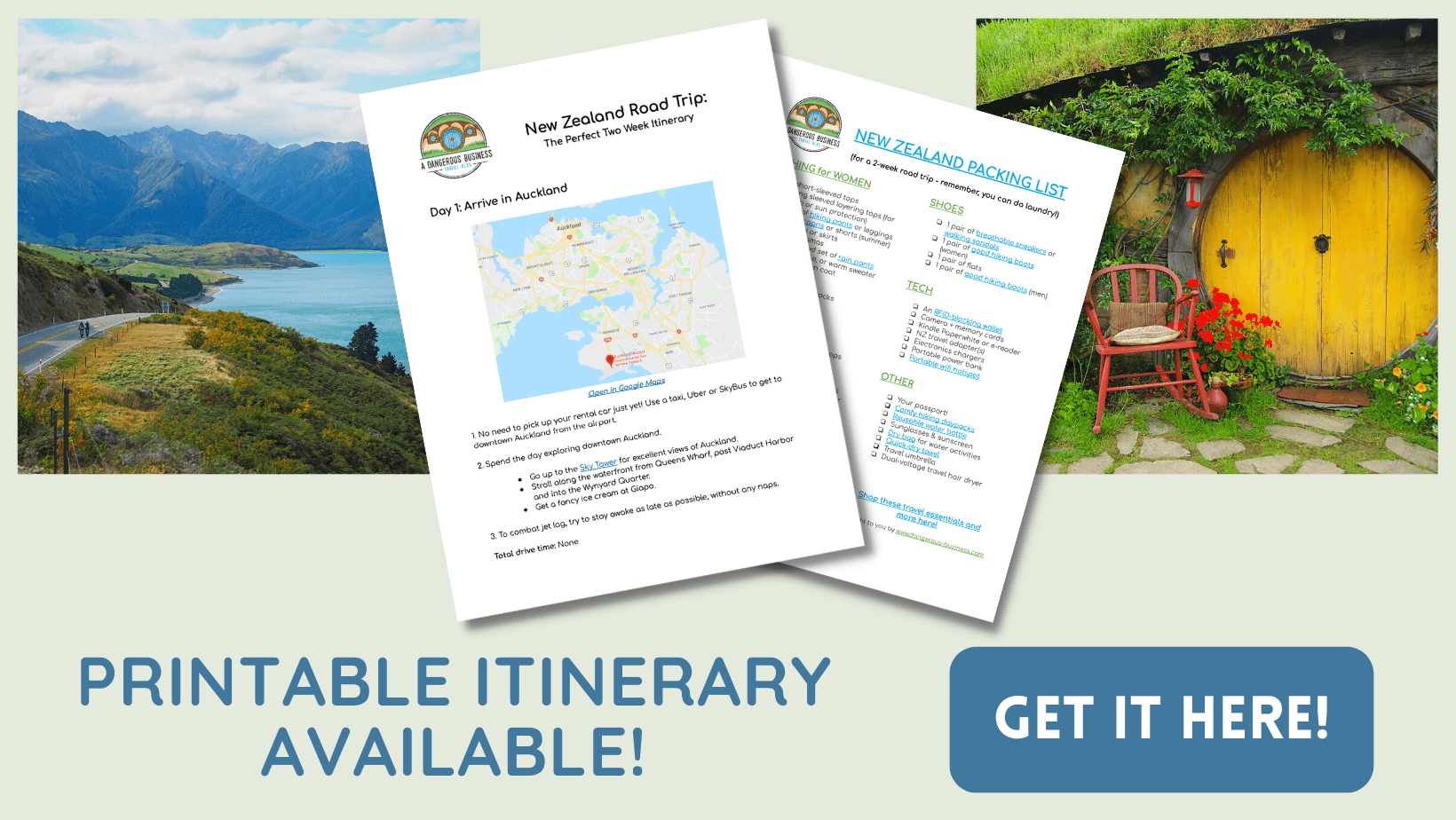 Don't forget you can get a printable version of this itinerary (with a packing checklist) here!
---
If you have more time…
Like I mentioned already, two weeks isn't nearly enough time to fully explore New Zealand. Putting this itinerary together was extremely difficult, because I had to cut out some amazing places in order to make room for even more amazing places.
BUT, if you have more than 2 weeks to road trip around New Zealand, here are some additional places I also highly recommend visiting.
1. Coromandel Peninsula
The Coromandel Peninsula lies to the southeast of Auckland on the North Island, and is known for its great beaches and native forests. Here you can dig your own hot tub at low tide at Hot Water Beach, do a morning hike to the famous Cathedral Cove*, walk along an old mining railway trail in Karangaheke Gorge, plus much more.
If the weather cooperates, one of the more popular things to do is to kayak to Cathedral Cove from Hahei, or take a boat cruise here.
*Note: As of late 2023, Cathedral Cove remains closed due to an ongoing rockfall; check for updates before you plan to visit.
How long to spend: 1 or 2 nights
Where to add it in: It's a 2.5-hour drive from Auckland, so I would make this your Day 3/4, and continue on to Hobbiton and Rotorua afterwards.
Where to stay: For camping, I liked the Hot Water Beach TOP 10 Holiday Park, which is within walking distance to Hot Water Beach. If you want a hotel, check out the Beachfront Resort, the top-rated hotel in the town of Whitianga that is indeed right on the beach.
2. Tongariro National Park
Tongariro National Park is New Zealand's oldest national park and also a dual World Heritage site. Here you'll find three of the country's most famous volcanoes: Tongariro, Ngauruhoe, and Ruapehu, along with the most popular day hike in New Zealand, the Tongariro Alpine Crossing.
If you're a hiker at all, then doing the Tongariro Crossing should definitely be on your to-do list. This 19.4-kilometer trek is fairly challenging, but offers up amazing scenery of the Red Crater, Emerald Lakes, and Mount Ngauruhoe (which was Mount Doom in the Lord of the Rings movies).
I recommend allowing two days to try this hike, as bad weather often makes the track dangerous and/or not worth doing (in my opinion) since you can't see anything.
Where to add it in: Between Rotorua and Wellington
How many days: 2 or 3 nights
Where to stay: Elliot and I spent two nights camping at the Plateau Lodge (which offers a shuttle for the Tongariro Crossing). When our planned hiking day got rained out, we went and had afternoon tea at Chateau Tongariro, which is one of the nicer hotels in the area.
3. Abel Tasman National Park
Another national park worth visiting if you have the extra time is Abel Tasman National Park at the top of the South Island. This national park may be New Zealand's smallest, but it's definitely one of the most memorable.
Abel Tasman is known for its beautiful beaches and hiking trails – a popular activity is to combine hiking and kayaking along the coast if you have at least one full day to spend here. (Scenic cruises are also available.)
Where to add it in: The day after you take the ferry from Wellington
How many days: 1 or 2 nights
Where to stay: We loved the Motueka TOP 10 Holiday Park not far from Abel Tasman for our campervan. For those looking for hotels, check out the Split Apple Lodge.
4. Kaikoura
Further up the east coast of the South Island lies Kaikoura, a small seaside town that really packs a punch when it comes to marine wildlife. Because there's a deep sea trench not far off the coast from Kaikoura, you can see marine life like whales, dolphins, and seals pretty much year-round here. (Along with whale watching, you can also swim with wild dolphins and get up close with fur seals.)
I also love Kaikoura because it's a spot where the mountains meet the sea, which I always find really beautiful.
RELATED: 4 Reasons You Should Visit Kaikoura, New Zealand
Where to add it in: After Christchurch, since it's about 2 hours up the coast to the north
How many days: 2 nights
Where to stay: For camping, go for the Kaikoura Top 10 Holiday Park. For other lodging, check out the Kaikoura Boutique Hotel or the Bendamere House Bed and Breakfast.
---
Other amazing spots I've been to that didn't make it into this itinerary include: Northland and the Bay of Islands; Mount Taranaki; the Southern Scenic Route; Mount Aspiring National Park; Dunedin and the Otago Peninsula; and Akaroa on the Banks Peninsula.
There are simply too many amazing places to see in New Zealand! I've visited the country many times and still haven't seen/done everything I've wanted to!
But hopefully this helps you get a good start on planning your own perfect New Zealand road trip itinerary, even if you only have 2 weeks in New Zealand.
READ NEXT: The Ultimate Guide to Planning a Campervan Road Trip in New Zealand
More essential info
---
Have you ever done a road trip in New Zealand? If not, are you ready to plan one now?
Pin it for later: