CONCORD, N.H. — New Hampshire on Wednesday announced Jan. 23 as the date of its presidential primary, setting up the second GOP contest of 2024 eight days after the Iowa caucuses — and defying President Joe Biden and the Democratic National Committee's plans to give South Carolina the party's first primary contest.
The move means the Granite State will remain first on the primary calendar, but it faces punishment from the DNC, including the loss of half of its delegates to the Democratic convention, for not following the party's new order, which was recommended by Biden.
The conflict between New Hampshire and national Democrats means Biden's name will be missing from the New Hampshire presidential primary ballot this year.
New Hampshire has held its "first in the nation" primary status for more than a century. And in 1975, the state enacted a law that required the primary to take place at least seven or more days before any other state.
Jan. 23 "complies with our state statute, requiring our presidential primary to be at least seven days before any similar event, and it preserves the position of the traditional Iowa caucus," New Hampshire Secretary of State David Scanlan said at a press conference Wednesday.
Scanlan told NBC News ahead of his announcement that he waited to set the date until he was "comfortable that New Hampshire will hold the first in the nation presidential primary." Iowa Democrats, who were also stripped of their early slot in the DNC's approved 2024 calendar, shifted their traditional in-person caucuses to a mail-in system this year — which Scanlan had said risked triggering New Hampshire's law requiring him to move ahead of another state primary. But in early October, Iowa Democrats announced they will release their results on March 5, which is Super Tuesday.
The official date clarifies the road to the GOP nomination for the candidates seeking to challenge Biden in the general election. They will compete in the Iowa caucuses on Jan. 15 before turning to New Hampshire, followed by the Nevada caucuses on Feb. 8 and South Carolina's primary on Feb. 24.
For Democrats, South Carolina's primary will be on Feb. 3, followed by Nevada's on Feb. 6.
DNC Chair Jaime Harrison, a former South Carolina Democratic Party chair, said in February that changing the calendar to put South Carolina first "puts Black voters at the front of the process." In July, during an interview on MSNBC's "Inside with Jen Psaki," Harrison said that "South Carolina has been the best indicator" of who the eventual nominee will be. The state was the first contest Biden won in the 2020 Democratic primaries.
Scanlan fired back at that line of reasoning in his press conference.
"Using racial diversity as a cudgel and an attempt to rearrange the presidential nominating calendar is an ugly precedent," Scanlan said. "At what point does the state become too old or too wealthy or too educated, or too religious to hold on early primary? The truth is, there is no individual state that truly reflects the makeup of America and no state is more American than any other state."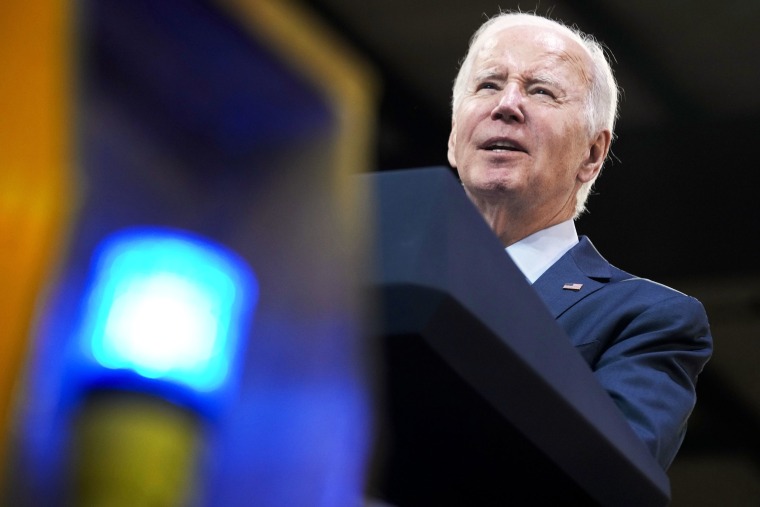 In a letter to New Hampshire Democratic Party Chair Ray Buckley, Biden campaign manager Julie Chávez Rodriguez said Biden was "obligated as a Democratic candidate for President to comply with the Delegate Selection Rules for the 2024 Democratic National Convention promulgated by the Democratic National Committee." 
But New Hampshire Gov. Chris Sununu, a Republican, believes "delegates really don't matter" in this case.  
"New Hampshire's power of this process is in its ability to allow candidates to come in and be themselves," he told NBC News. 
During a talk at Saint Anselm College in October, Scanlan made his case for why New Hampshire should go first. 
"It's a small state geographically. It has a small media market compared to other states in the country, especially the large ones. We are a purple state politically. We have regular high voter participation. And it is very easy for any United States citizen who qualifies to run for president to actually try and make it happen," he said.
This is not the first time New Hampshire has faced challenges to its status as the first primary. In 1995, then-Secretary of State Bill Gardner had to fend off a challenge from Delaware, which passed a state law putting its primary on the same date as New Hampshire's.
Scanlan told NBC News he thinks the DNC and other states "will continue to pose challenges until they get tired and give up. We won't."
Sununu agreed. "We've had our process, we've always gotten first, and so I imagine that will continue," he said.