How to watch today's New York Giants vs. Dallas Cowboys NFL game: Livestream options, kickoff time, more
The NY Giants face the Dallas Cowboys in Week 10. The Cowboys are coming off a tough loss to the Philadelphia Eagles in Week 9, while the Giants are scrambling to save their season after quarterback Daniel Jones suffered a season ending torn ACL.
---
How to watch the New York Giants vs. Dallas Cowboys game 
The Week 10 game between the New York Giants and the Dallas Cowboys will be played Sunday, Nov. 12 at 4:25 p.m. ET (1:25 p.m. PT). The game will air on Fox.
---
How to watch the New York Giants vs. Dallas Cowboys game without cable
While most cable packages include Fox, it's easy to watch the game if Fox isn't included in your cable TV subscription, or if you don't have cable at all. Your best options for watching are below. (Streaming options will require an internet provider.)
If you have don't have cable TV that includes the NFL Network, NBC, ABC, Fox or ESPN, one of the most cost-effective ways to stream live NFL football this year is through a subscription to Sling TV. The streamer offers access to the NFL Network, local NBC, Fox and ABC affiliates (where available) and ESPN with its Orange + Blue Tier plan. Also worth noting: Sling TV comes with 50 hours of cloud-based DVR recording space included, perfect for recording all the season's top NFL matchups.
That plan normally costs $60 per month, but the streamer is currently offering a 50% off promotion for your first month, so you'll pay just $30. You can learn more by tapping the button below.
Top features of Sling TV Orange + Blue tier:
There are 46 channels to watch in total, including local NBC, Fox and ABC affiliates (where available).
You get access to most local NFL games and nationally broadcast games at the lowest price.
All subscription tiers include 50 hours of cloud-based DVR storage.
---
Watch the New York Giants vs. Dallas Cowboys game free with FuboTV
You can also catch the game on FuboTV. FuboTV is a sports-centric streaming service that offers access to almost every NFL game of the season. Packages include CBS, Fox, NBC, ESPN, NFL Network, NFL RedZone and more, so you'll be able to watch more than just today's games.
To watch the NFL without cable, start a seven-day free trial of Fubo. You can begin watching immediately on your TV, phone, tablet or computer. Fox, so you know, offers Sunday NFC games via "NFL on Fox"; while ESPN is the home of "Monday Night Football." ABC airs some "MNF" games, too. 
In addition to NFL football, FuboTV offers MLB, NBA, NHL, MLS and international soccer games. FuboTV starts at $75 per month for the Pro tier (includes NFL Network); the $100 per month Ultimate tier includes NFL RedZone.
Top features of FuboTV:
The Pro tier includes 169 channels, including NFL Network; the Ultimate tier includes 289 channels, including NFL RedZone.
FuboTV includes all the channels you'll need to watch live sports, including CBS (not available through Sling TV).
All tiers come with 1,000 hours of DVR recording.
---
Watch the NY Giants vs. Dallas Cowboys game on Hulu + Live TV
You can watch the NFL, including the NFL Network, with Hulu + Live TV. The bundle features access to 90 channels, including both Fox and FS1. Unlimited DVR storage is also included. Watch every game on every network with Hulu + Live TV, plus catch live NFL preseason games, exclusive live regular season games, popular studio shows (including NFL Total Access and the Emmy-nominated show Good Morning Football) and lots more.
Hulu + Live TV comes bundled with ESPN+ and Disney+. It's priced at $77.
---
Watch local NFL football live with a digital HDTV antenna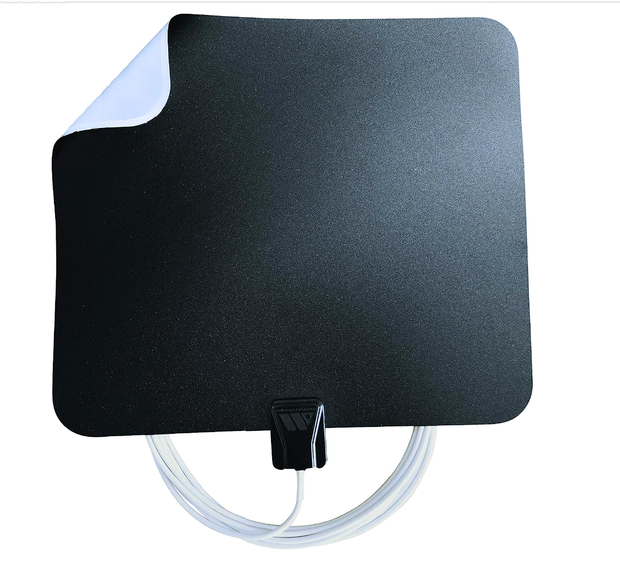 If you're cutting the cord to your cable company, you're not alone; in fact, you are in luck. You can still watch the NFL on TV with an affordable indoor antenna, which pulls in local over-the-air HDYC channels such as CBS, NBC, ABC, Fox and PBS.  Here's the kicker: There's no monthly charge.
Anyone living in partially blocked-off area (those near mountains or first-floor apartments), a digital TV antenna may not pick up a good signal – or any signal at all. But for many homes, a digital TV antenna provides a seriously inexpensive way to watch college football without paying a staggering monthly fee.  Indoor TV antennas can also provide some much-needed TV backup if a storm knocks out your cable (or your cable company gets in a squabble with a network).
This amplified HDTV antenna, claims to have a 50-mile range and offers 36 channels. It's rated 4.0 stars by Amazon reviewers.
Said one Amazon customer, "If you're considering this product, you're probably already questioning your cable television bill and are looking around for a cheap way to get the Big 3 plus Fox and PBS. This antenna delivered that for us right out of the box."
---
Watch the New York Giants vs. Dallas Cowboys game on your phone with NFL+
If you want to catch the game on your phone — and all the amazing football ahead this season — check out NFL+. The premium streaming service, starting at $40 per year (or $7 per month), offers access to NFL Network. And yes, that includes games being broadcast out-of-market. To boost your NFL experience even further, you can upgrade to NFL+ Premium with NFL RedZone and watch up to eight NFL games simultaneously. A seven-day, free trial is available.
Top features of NFL+:
You get access to all NFL preseason games, including those that are out of market.
NFL+ lets you watch stream local and primetime regular season games on your phone or tablet, but not your TV.
Includes the NFL Network (and NFL RedZone with NFL+ Premium), so it's a good option for those who are looking to stream football on the go.
---
2023 NFL Season Week 10 Schedule

The 2023 NFL Season Week 10 schedule is below. All times listed ET. The game you see broadcast locally will depend on your geographical area. 
Thursday, Nov. 9
Carolina Panthers vs. Chicago Bears, 8:15 p.m. (Prime Video)
Sunday, Nov. 12
Indianapolis Colts vs. New England Patriots, 9:30 a.m. (NFL Network live from Germany)
Cleveland Browns vs. Baltimore Ravens, 1:00 p.m. (Fox)
Houston Texans vs. Cincinnati Bengals, 1: 00 p.m. (CBS)
San Francisco 49ers vs. Jacksonville Jaguars, 1:00 p.m. (Fox)
New Orleans Saints vs. Minnesota Vikings, 1:00 p.m. (Fox)
Green Bay Packers vs. Pittsburgh Steelers, 1:00 p.m. (CBS)
Tennessee Titans vs. Tampa Bay Buccaneers, 1:00 p.m. (CBS)
Atlanta Falcons vs. Arizona Cardinals, 4:05 p.m. (CBS)
Detroit Lions vs. Los Angeles Chargers, 4:05 p.m. (CBS)
New York Giants vs. Dallas Cowboys, 4:25 p.m. (Fox)
Washington Commanders vs. Seattle Seahawks, 4:25 p.m.  (Fox)
New York Jets vs. Las Vegas Raiders, 8:20 p.m. (NBC)
Monday, Nov. 13
Denver Broncos vs. Buffalo Bills, 8:15 p.m. (ABC, ESPN)
---
Storylines we're following in the 2023 NFL season
Important dates to remember: 
The 2023 NFL regular season runs today through Jan. 7, 2024. 
Playoffs are scheduled for January 13 through Jan. 28, 2004.
Super Bowl LVIII is scheduled for Feb. 11, 2024 in Las Vegas.
What happens in Vegas… Toward the end of the 2022-2023 NFL season, the Las Vegas Raiders benched quarterback Derek Carr before trading him to the New Orleans Saints. Signing former Niners QB Jimmy Garoppolo brought hope to Vegas, Jimmy's Super Bowl experience a bonus for long-suffered Raiders fans. Last week after the team's 3-5 start, owner Marc Davis fired head coach Josh McDaniels, fired GM Dave Ziegler and benched Garoppolo. Superstar wide receiver Davante Adams had previously expressed his disappointment In his production. The Raiders started rookie Aiden O'Connell in Week 9, the team scoring a 30-6 win over the NY Giants giving the Raiders a 4-5 record coming into Week 10. That doesn't bode well for Garoppolo fans, but gives the Raiders a much needed boost halfway into the season.
WAGs in the stands: Pop princess Taylor Swift's very public romance with Kansas City Chiefs tight end Travis Kelce made being a WAG (wives and girlfriends of athletes) cool again. Not since supermodel Gisele Bündchen first starting dating former husband Tom Brady has an athlete's partner garnered so much attention. But with Olympian Simone Biles in the stands (her husband Jonathan Owens plays for the Green Bay Packers) and Bills QB Josh Allen dating Pitch Perfect actress Hailee Steinfeld, what's happening in the stands this season is getting as much as attention as the game on the field.
Good morning, Baltimore. Many hours of NFL sports broadcasts over recent years has been dedicated to arguing the talents (or lack thereof) of Baltimore Ravens quarterback Lamar Jackson. Lamar has always been a dynamic scrambler out of the pocket and this season is no different with Jackson scoring 440 rushing yards, the top for QBs in the NFL. Halfway through the 2023 NFL season, Lamar is poised to have the best season of his career. The Ravens are 7-2 coming into Week 10 and MVP chants follow Lamar (again) at every turn. The Ravens might not get the hype of the Chiefs or Eagles, but they're establishing themselves as a Super Bowl contender and Lamar is already making a case to turn those chants into reality.
---
Related content on CBS Essentials