Heavy bombardment around Gaza's main hospital and a new plan to avert government shutdown: Weekend Rundown
A 'war zone' at Gaza's largest hospital
The Al-Shifa hospital in Gaza City has been "out of service" since Saturday morning, the Palestinian Health Ministry said, as heavy bombardment and intense fighting outside the complex caused power outages amid a fuel shortage.
Multiple deaths have been reported at the hospital, including three babies, and the Israel Defense Forces announced Sunday that they would open evacuation routes for civilians from Al-Shifa and two other hospitals.
A surgeon at Al-Shifa hospital who spoke with NBC News said 36 other babies are at risk: "If they stay in this condition, they are all going to die."
Another surgeon at the hospital told NBC News the hospital area had become a "war zone" and that vital resources were dwindling, including food and water.
The European Union called for "immediate pauses in hostilities" Sunday to establish humanitarian corridors, while the director-general of the World Health Organization described the situation at Al-Shifa hospital as "dire and perilous" after he said the organization managed to contact staff there Sunday.
Follow NBC News' live coverage here.
Meet the Press
Israeli Prime Minister Benjamin Netanyahu appeared on "Meet the Press" Sunday to discuss the war and negotiations over the hostages taken by Hamas.
Netanyahu told Kristen Welker there "could be" a potential hostage deal with Hamas but declined to give any further details, saying it could thwart those delicate negotiations.
A Biden administration official confirmed to NBC News on Sunday that a possible deal for the release of 80 hostages was being discussed.
Welker also asked Netanyahu about the protests across the world calling for an end to civilian deaths. He responded by saying "there's confusion in many parts of the world" and alluded to protests happening on college campuses.
"What these people are doing is protesting for sheer evil," he said. "That's wrong. And by the way, it's a condemnation. It's an indictment of higher education in some of our universities."
You can watch the full interview here.
More on the Israel-Hamas war
Palestinian journalists working in Israel tell NBC News they have faced increased intimidation and harassment since Hamas' Oct. 7 assault.
The war has spurred a spate of antisemitic and Islamophobic incidents across the U.S., and Muslim students at the University of Texas at Austin say they feel abandoned by the school after a recent disruption at a pro-Palestinian event.
Online creators on platforms like TikTok and Instagram feel pressure to speak out on Israel and Gaza — and face swift backlash when they do.
Government shutdown deadline approaches (again)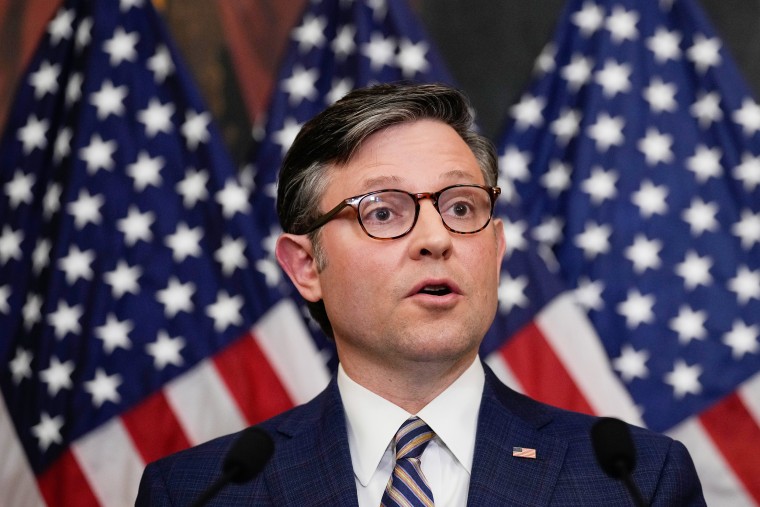 Congress averted a government shutdown at the very end of September, but the deal only kept the government open through Nov. 17. Now, a new House speaker has only days to get a funding bill passed.
Speaker Mike Johnson, R-La., unveiled a stopgap bill Saturday, opting to go with a two-step continuing resolution over a more typical funding extension covering the entire federal government, a move aimed at appeasing far-right agitators in the GOP conference.
The House is expected to vote as early as Tuesday, according to two people familiar with the matter.
The laddered plan has the backing of Congress' most conservative members, but Democrats in both chambers have made it abundantly clear that they hate this idea — as does the White House.
Politics in Brief
GOP election losses: Abortion rights was a big issue for many voters in last week's elections. RNC Chairwoman Ronna McDaniel addressed the GOP's losses on "Meet the Press" Sunday and acknowledged the party must address this issue going forward.
Biden in campaign mode: President Joe Biden is ramping up attacks on former President Donald Trump, his likely 2024 Republican opponent, after some allies privately urged him to do so in recent days.
The battle for Iowa: After a contentious debate last week, Ron DeSantis and Nikki Haley are trying to bring their momentum to the first caucus state.
Workers burned out by mandatory overtime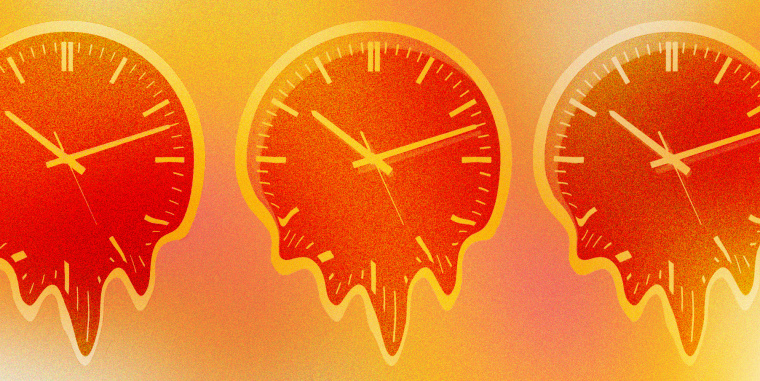 From hospitals to factories, workers say they are being required to take increasing overtime hours to make up for post-pandemic worker shortages — leaving them sleep-deprived and scrambling to cover child care duties while missing birthdays, holidays and vacations.
Extra hours can provide a financial boost for struggling families, but some workers say the trade-off is no longer worth it. "It's definitely causing morale issues," the president of one Virginia union said.
Employers say requiring overtime is a necessity because they're unable to find enough workers to staff the shifts. But several labor unions say that's not the whole story.
Megan Rapinoe's final match ends in injury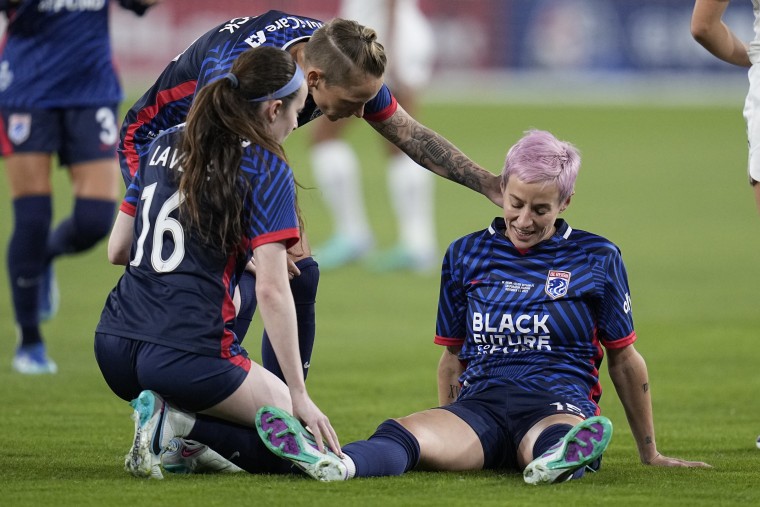 Saturday night's NWSL championship match was the final professional match of U.S. soccer legend Megan Rapinoe's career. The game, however, was marred by an on-field injury.
Rapinoe hit the ground in the third minute of the game while defending Gotham FC midfielder Maitane Lopez. Rapinoe cut Lopez off and forced a back pass, but planted her foot wrong, prompting the fall.
After a few minutes sitting on the field, and after shedding a few tears, Rapinoe was helped up and limped off the field.
Rapinoe had announced over the summer she would be hanging up her cleats after the NWSL season. The Redding, California, native will be leaving competitive soccer as one of America's most durable and accomplished female athletes of all time, having played on four World Cup teams and four Olympic sides.
In case you missed it