WASHINGTON — The man who federal authorities say set off a brutal battle with police at the lower west tunnel of the U.S. Capitol on Jan. 6 was arrested Friday, nearly two years after he was identified by online sleuths.
Gregory Mijares was identified by online "Sedition Hunters" in 2021. An FBI affidavit said the bureau received a tip in October 2021, and then interviewed Mijares in March 2023.
Mijares was arrested in Crown Point, Indiana, on Friday, according to court records, and charged with felony civil disorder along with two misdemeanor charges.
Video footage shows Mijares was the first rioter to enter the Capitol through the lower west terrace doors on Jan. 6, 2021. The lower west terrace was the site of some of the worst violence at the Capitol that day. Several police officers sustained major injuries, and rioter Rosanne Boyland died amid the chaos.
Mijares earned the nickname "Gas Hat" because footage showed him wearing his gas mask like a hat during part of the battle inside the tunnel.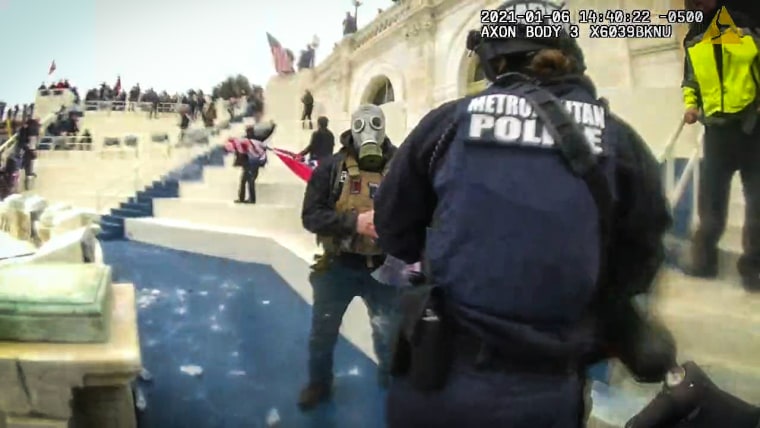 A FBI affidavit states Mijares told the bureau he rented a car in Indiana, drove to D.C. with a friend, and stayed at an Airbnb in Virginia. Mijares, they said, "admitted to entering Capitol grounds, wearing a gas mask, seeing law enforcement launch tear gas into the crowd, and getting into altercations with police officers both outside and inside the Tunnel."
The FBI said Mijares "held up his middle finger at officers" before he opened a door that had been broken by rioters, and then confronted police before he "began to physically fight officers."
Online sleuths were able to identify Mijares with the help of a photo posted by a journalist that shows him posing near the Capitol after the attack when he was not wearing his mask.
The FBI has arrested more than 1,100 people in connection with the attack on the U.S. Capitol. More than 600 have been sentenced, including more than 370 defendants to periods of incarceration and more than 120 to periods of home detention.
"The Department of Justice's resolve to hold accountable those who committed crimes on January 6, 2021, has not, and will not, wane," the U.S. Attorney's Office said in a statement this week.