'Someone dropped the ball'
In the early 1970s, Kozobarich said adverse birth outcomes were so widespread among women on the base that some mothers treated it like a contagion, avoiding one another or hiding in their homes. 
"Everyone was afraid," she said.
Military leaders were alerted to the water problem as early as 1980 when they received a U.S. Army lab report containing a handwritten note that said the water was "highly contaminated," Justice Department attorneys have admitted in court filings. 
Camp Lejeune enlisted an outside lab to test the drinking water system in 1982 when the U.S. Environmental Protection Agency was expected to issue new regulations. The results were troubling, showing chlorinated solvents in the drinking water, according to Mike Hargett, the co-owner of the lab.
At the time, Hargett warned at least one higher-up at Camp Lejeune in-person about the dangers the chemicals posed to base residents. But, he said, he was dismissed in less than five minutes. 
"That was disturbing to me that there was not a genuine concern that we need to do something about this today," Hargett said. 
The most contaminated wells stayed open for over two more years, according to the ATSDR.
On April 13, 1984 — seven months before the first of the wells were shut down — Ann Johnson gave birth to a baby girl named Jacquetta, who had a cleft lip, a cleft palate and brain stem issues. Her right eye and right hand did not form properly, and she could not breathe or swallow on her own. 
"She couldn't cry out loud," Johnson said. "You could see her open her mouth, and you could see tears roll down her eye, but she couldn't make any noise." 
Seven weeks later, on the car ride home from the hospital, Jacquetta stopped breathing as her mother played with her curly hair. 
"For 39 years, this has been at the back of my head," Johnson said. "Did I do something wrong?"
Many people who were exposed went many years before they learned about the contamination.
In 1997, Jerry Ensminger, a Marine veteran, had just prepared dinner when he looked up at the television and saw a news report about the poisoning for the first time.
"I dropped my plate of spaghetti on the living room floor," he said. 
Ensminger had spent the last dozen years wondering how Janey, his curious and tough 9-year-old daughter, who was conceived and born at Camp Lejeune, could have died from leukemia. 
"It was like God opened the sky and said, 'Jerry, here's a glimmer of hope that you'll get your answer,'" he said.
In his first TV interview addressing the contamination since he left the Marine Corps, retired Maj. Gen. Eugene Gray Payne, who became responsible for Marine Corps installations in 2007, said leaders should have taken the warnings seriously, shut the wells down sooner and shown more compassion.
"There were personnel on base that were informed that there were contaminants, and they should have taken action," he said. "Someone dropped the ball badly." 
In 2010, when Payne testified at a congressional hearing, he said he and the commandant had been briefed "over and over" that the water situation was better than it was. 
"I think there may have been a reticence," Payne said. "Fear that the backlash toward the negligence or potential negligence would've been tremendous. And I think there was a fear of saying it then. And I think that we made a mistake in not doing so."
"It is a very real danger with any large organization that somewhere in the bureaucracy, someone is covering up what is potentially an extremely dangerous situation," he added.
The Marine Corps, which is part of the Navy, directed comment to the Navy, which said it "remains committed" to addressing all Camp Lejeune Justice Act claims and encouraged eligible people to file administrative claims.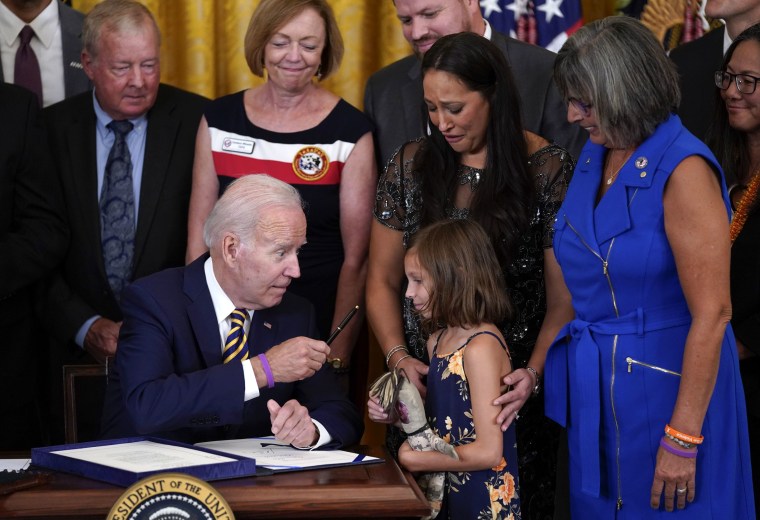 'A complicated issue'
On Aug. 10, 2022, President Joe Biden signed the PACT Act, the "most significant expansion of benefits and services for toxic exposed veterans in more than 30 years," according to the White House. 
A provision of the bill allows people exposed to contaminated water at Camp Lejeune to file new lawsuits in the Eastern District of North Carolina if they have waited longer than six months for the Navy to resolve or respond to their initial claim.
With less than a year left to file, the Navy has received more than 93,000 Camp Lejeune Justice Act claims but has settled none, an official said. At least 1,192 cases have been filed in the North Carolina federal court so far, according to the court's clerk, Peter Moore Jr.